McAuliffe Talks Jobs, Workforce Development, Chicken and Kegerators

The audience, which represented approximately a billion dollars worth of business in Virginia, was absorbed. On November 13, close to 150 Central Virginia CEOs gathered to hear what Governor Terry McAuliffe has been up to in his first 11 months as CEO of Virginia.
Like most newly appointed leaders with an ambitious agenda, he has chosen to take quick and immediate action. We learned he's been on the move, traveling the world to approximately 20 countries and promoting his desire to put "Made in Virginia" on more shelves around the world.
His early economic development record is tracking twice as high as his predecessors', and according to McAuliffe, he's just warming up. He answered our questions and at times made us wonder, "Did he really just say that?" All told, we were honored to have him join our member meeting.
Jobs, Workforce Development, Chicken and Kegerators
Since taking office in 2013, McAuliffe's administration has announced the creation of 211 jobs that are expected to bring nearly $5 million worth of capital investments to Virginia — and deliver much-needed salvation to areas like Galax, Hampton Roads, Appomattox and Petersburg.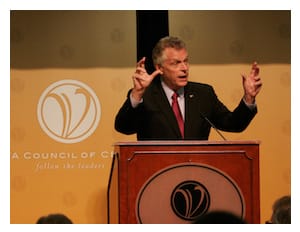 Our own VACEOs 2014 Third Quarter Economic Survey reports that staffing and finding the right talent is a major concern for Virginia business owners. It's also on the mind of the governor. "We are going to see 500,000 new jobs created in the next six years in Virginia," said McAuliffe. "You will see 400,000 Virginians who will be retiring. We've got to fill those jobs. We've got to do it."
His answer? Align college curriculums to sought-after skill sets and jobs. Expect legislation to move the Virginia education system in that direction soon.
Being the CEO of Virginia is a tough job, but McAuliffe seems to be up to taking one for the team, even if it means placing himself in a few uncomfortable situations. Eat a whole bowl of chicken feet followed by a healthy serving of cicadas? No problem! Especially if it means a seven-year ban on Virginia poultry by China is lifted — which, as McAuliffe reports, could bring upwards of $100 million a year to Virginia's poultry farmers.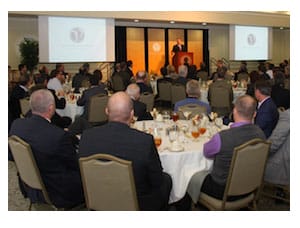 Said McAuliffe jokingly, "I will eat anything if it's going to get the deal done. I will do what I have to do." Even if that means putting a kegerator in the mansion to court Stone Brewing Company away from 20 other state suitors, or personally consuming enough Virginia wine to tip Virginia wine sales ahead of Texas. The CEOs gathered before him related to and appreciated his passion and sense of humor.
"If you want to attract new business, you need to be able to move the goods around," McAuliffe stated in closing. But will he be able to unlock the clogged arteries of Hampton Roads and Northern Virginia? It remains to be seen. But clearly, transportation was on the minds of the Virginia CEOs in attendance. Questions for McAuliffe included, "How will he woo low-cost air carriers to the Richmond International Airport to make the west coast more accessible to the state?" And, "Why are gas prices set to rise again?"
Whether they're the CEO of an insurance firm, an IT company or the entire state of Virginia, everyone seems to be on the same quest: finding creative business approaches to operational efficiency. The better question might be, "When we do find the Holy Grail, can we replicate it and label it 'Made in Virginia'?"
About the Virginia Council of CEOs
The Virginia Council of CEOs has gathered Central Virginia CEOs together with local and national thought leadership since 2000. Our Think Tank includes award-winning companies across industries like IT Services, Marketing & Advertising, Logistics & Transportation, Business Products & Services, Consumer Products, Human Resources, Finance, Health Services and more. Learn about VACEOs membership.
Posted by Scot McRoberts at 8:18 pm