Virginia CEOs Report Economic Outlook in 2014 2nd Quarter Survey
Robins School of Business – Virginia Council of CEOs survey shows significance of talent gaps in small and mid-sized businesses.
Each quarter the Virginia Council of CEOs (VACEOs) and University of Richmond's Robins School of Business partner to take the pulse of top executives in the region.
The survey results provided by Richard Coughlan, Senior Associate Dean at the Robins School of Business, provide a snap shot of the overall economic outlook index for various companies within the region and help central Virginia companies anticipate business decisions and plan for growth.
Overall, the Economic Outlook Index for the second quarter reflects slightly more optimism among CEOs compared to first quarter results. The higher score was driven largely by an increase in the percentage of firms expecting to grow the number of employees over the next six months, to 49.4% of firms from 44.6% a quarter ago.
Says Scot McRoberts, executive director of the Virginia Council of CEOs, "The CEOs I work with are very concerned with attracting talent in two areas. The first is sales.  As business has become more competitive, many small business CEOs are raising the bar for their sales teams. The other challenge is with technical staffing.  In our local IT community, programmers and coders are just not there in sufficient skill and quantity."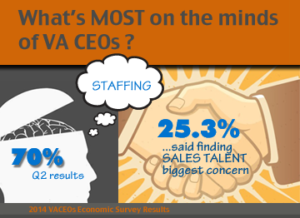 VA CEOs Survey Quantifies Talent and Revenue Gaps
The second quarter 2014 CEO Economic Outlook survey by the University of Richmond's Robins School of Business and the Virginia Council of CEOs highlights the challenges of finding and retaining talent, especially in sales, marketing and information technology.
Among the 87 chief executives of small and mid-sized companies participating in the survey this quarter, 70 percent said staffing is a significant issue. Finding, recruiting and retaining sales talent was identified as a significant challenge by 25.3% of CEOs. Operational talent was cited as a challenge by 16.1% of respondents, while 14.9% cited marketing talent. The other categories of talent noted as challenges by more than ten percent of respondents were engineering, information technology and general management.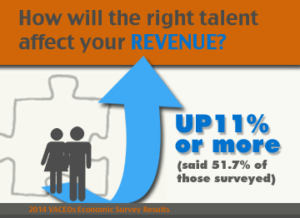 When asked how much their annual revenues might increase if their talent concerns were resolved, more than half of all CEOs (51.7%) indicated they would experience growth of 11% or more, with 17.2% of firms indicating potential revenue growth of more than 20% if they could solve their staffing issues.
"Workforce development continues to be a key concern for these executives," noted Richard Coughlan, senior associate dean of the Robins School. "For the first time, we collected data that allow us to quantify the very significant financial impact of talent gaps in their firms."
Survey Results
The following survey results from the first and second quarters of 2014 show projections for the next six months for sales, spending and employment: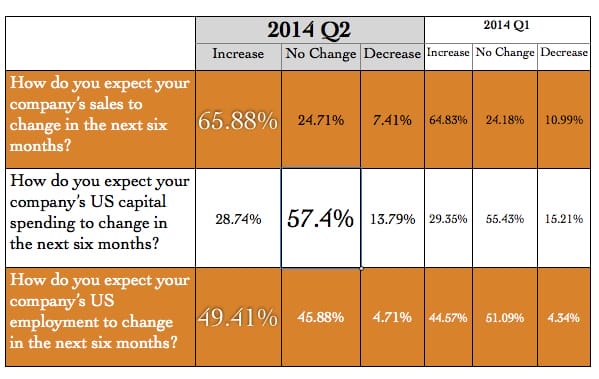 Economic Outlook Index
The results also provide an overall economic outlook index, which is based on businesses' projected six-month sales, spending and employment figures.
Economic Outlook Index

About the 2013, Fourth Quarter Robins School of Business / VACEOs Economic Survey
The Virginia Council of CEOs and the Robins School jointly conduct the quarterly survey, which helps central Virginia companies anticipate business decisions and plan for growth.  The Robins School adapted the survey from the Business Roundtable, an association of CEOs of American companies that conducts a similar survey nationally.
The council and the Robins School collected responses from 87 CEOs in central Virginia. The median annual revenue year-to-date for CEOs responding was $3.1 million. Multiple industries are represented in the sample (for example, construction, manufacturing, finance and insurance, and retail). The median employment of member companies for this survey was 20.
Request Results
The council continues to expand the survey beyond its members, offering any area business owners whose companies gross at least $1 million in annual revenue the opportunity to participate. If enough businesses participate, the council will provide survey results by industry. Participation is free, and all participants will receive copies of the survey data.
Business owners and CEOs who would like to participate in the next survey should contact Scot McRoberts at smcroberts@vaceos.org.
About the Virginia Council of CEOs
The Virginia Council of CEOs is a nonprofit organization, whose mission is to connect the CEOs of second-stage companies so they can learn from each other and grow their businesses. Learn more at www.vaceos.org.
About the Robins School of Business
The Robins School of Business  is the only fully accredited, top-ranked undergraduate business school that also is part of a top-ranked liberal arts university. Bloomberg Businessweek ranks both the Robins School's undergraduate and part-time MBA programs among the top 25 in the country in their respective categories. The school's executive education division offers open enrollment courses and customized leadership development programs for individuals and businesses.
# # #
Posted by Scot McRoberts at 11:27 am