Virginia CEOs Report Economic Outlook in 2013 4th Quarter Survey
For the fifth quarter in a row, Robins School of Business –Virginia Council of CEOs survey finds staffing and economic uncertainty concerns to be the most significant business issues among Central Virginia executives. 
(Read Richmond Times Dispatch coverage)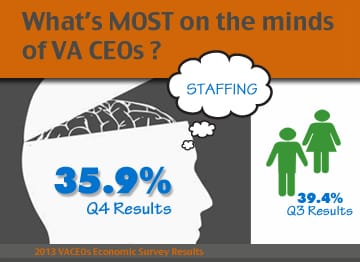 Each quarter the Virginia Council of CEOs (VACEOs) and University of Richmond's Robins School of Business partner to take the pulse of top executives in the region.
The survey results provided by Jeff Pollack, assistant professor of management at the Robins School of Business, provide a snap shot of the overall economic outlook index for various companies within the region and help central Virginia companies anticipate business decisions and plan for growth. This quarter the survey finds a drop in the overall outlook index of top executives compared to the previous quarter. The survey also reports, as it has since the fourth quarter of 2012, that staffing and economic uncertainty still weigh heaviest on the minds of Central Virginia CEOs.
Says Scot McRoberts, executive director of the Virginia Council of CEOs, "As unemployment has eased, it seems that small business CEOs are finding a tightening in the labor market. They remain wary of hiring unless they absolutely have to, and then are finding it tough to hire, especially for highly skilled positions."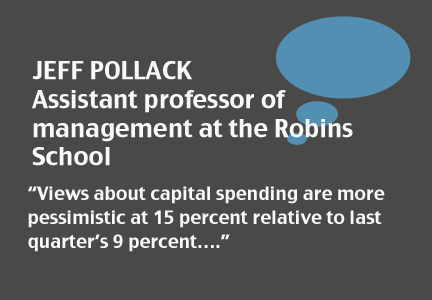 VA CEOs Economic Performance for Q4 2013 – Q2 2014
Among the executives of small and mid-sized companies participating in the survey, 35.9 percent said staffing is the most important business issue, a slight decrease from the 39.4 percent Q3 2013 findings. Economic uncertainty increased with 20.3 percent of executives agreeing it is the most significant issue, up from last quarter's 19.7 percent.
When asked how their company's U.S. employment will change in the next six months, over 55 percent of executives said they expected higher or significantly higher compared to only 50 percent of respondents last quarter.
"We see in these data a bit of a decrease in optimism. Indications are more neutral (no change expected) with regards to sales in the next six months by a greater number of CEOs, 25 percent relative to last quarter's 21 percent—though still a large majority, 68.8 percent, anticipate sales increasing," said Jeff Pollack, assistant professor of management at the Robins School.
Pollack continues, "Views about capital spending are more pessimistic at 15 percent relative to last quarter's 9 percent, though a majority anticipates no changes. For capital spending, we saw an 8 percent shift out of the neutral area where 4 percent more of these CEOs anticipate increases but 4 percent more anticipate a decrease. Staffing issues, slow growth and economic uncertainty are the top three areas of concerns noted by the current sample of CEOs."
Survey Results
The following survey results from the second and fourth quarter of 2013 show projections for the next six months for sales, spending and employment: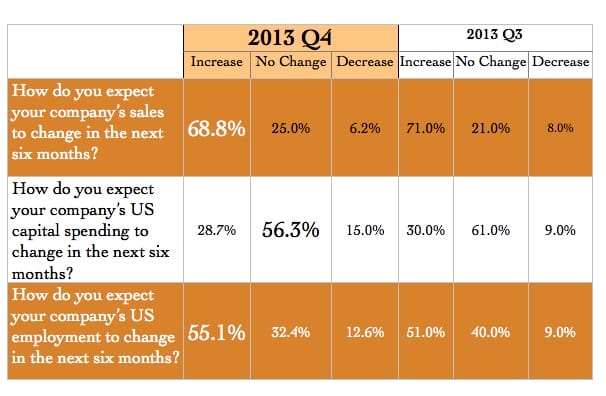 Economic Outlook Index
The results also provide an overall economic outlook index, which is based on businesses' projected six-month sales, spending and employment figures.

About the 2013, Fourth Quarter Robins School of Business / VACEOs Economic Survey
The Quarterly Outlook Survey is conducted jointly by the Virginia Council of CEOs and University of Richmond's Robins School of Business and is an adaption of the national Business Roundtable survey conducted by an association of CEOs of American companies.
The council and the Robins School collected responses from 80 CEOs in central Virginia. The average annual revenue year-to-date for CEOs responding was $37.9 million. The data were compared to the third quarter of 2013 responses of 80 participants. Multiple industries are represented in the sample (for example, construction, manufacturing, finance and insurance, and retail). The average employment of member companies for this survey was 49.
Request Results
The VA Council of CEOs continues to expand the survey beyond its members, offering any area business owners whose companies gross at least $1 million in annual revenue the opportunity to participate. If enough businesses participate, the Council will provide survey results by industry. Participation is free, and all participants will receive copies of the survey data.
Business owners and CEOs who would like to participate in the next survey should contact Scot McRoberts at smcroberts@vaceos.org.
About the Virginia Council of CEOs
The Virginia Council of CEOs is a nonprofit organization, whose mission is to connect the CEOs of second-stage companies so they can learn from each other and grow their businesses. Learn more at www.vaceos.org.
About the Robins School of Business
The Robins School of Business is the only fully accredited, top-ranked undergraduate business school that also is part of a top-ranked liberal arts university. Bloomberg Businessweek ranks both the Robins School's undergraduate and part-time MBA programs among the top 20 in the country in their respective categories. The school's executive education division offers open enrollment courses and customized leadership development programs for individuals and businesses.
Posted by Scot McRoberts at 8:00 am