Virginia Council of CEOs Member Profile: Trey Hayden
Mission: CodeBlue
"It's easy to get swayed or clouded and have your focus interrupted by things that come about when you have a business with employees, or an economy that's not stellar at the moment — there can be a lot of distractions," says CodeBlue Technology CEO, Trey Hayden.
He continues, "but if you keep focused on your original mission, then that tends to keep you on the path you need to stay on to be successful."
Hayden's focus over the last 23 years has brought him to a large, distinguished, colonial-style office space off of Monument Avenue. A location, Hayden says, central enough to adequately serve his 300 + customers. It also has brought him several honors and awards. (Most recently in 2012, CodeBlueTechnology (CBT) ranked #3 on the SMB 500 list as one of the fastest growing SMB focused IT providers in the USA, and this year, CRN Magazine will be present its Next-Gen 250 award to CBT.)
CBT could be described as a service-based company with a focus on technology. Its mission isn't to work with the largest, but to serve the smallest. That vision drives CBT's business philosophy, its management structure, and its hiring and training processes.
Becoming CodeBlue Technology…
Hayden grew up around family members who were farmers, contractors, painters… professionals who worked with their hands. Doers. He couldn't ignore his genetic tendency to do the same, nor his desire to learn about business. He studied at VCU and, while there, found the ultimate path he would follow while working a part time job at a local computer company.
"I was doing clerical and gopher work for them, but there were guys building PCs in the back. That's when my mechanical drive took over and I wanted to be a part of it."
He continues, "I would get my work done as fast as I could so I could sit on a stool and observe as much as I could and talk to the guys and asked them questions when I felt they had enough patience to answer my questions."
While learning about hardware and PC maintenance from the boys in the back, he was also learning about shipping and receiving, parts management, and eventually, consulting. He became the general manager of the company before he graduated from VCU in 1995.
Fast forward to 1999, he found an opportunity to greatly expand his technical knowledge through another employer. It was while working for this company that he would meet individuals who would eventually provide him with the opportunity to start CodeBlue Technology in January 2003.
Today, CodeBlue offers a slew of communication and IT technology services, including consulting, implementation, training, and maintenance.
Shop Setup to Keep the Cash Registers Ringing
Hayden explains, "CodeBlue's niche is the small to mid-size company, those with 1 to 1000 employees, and we've been that way since the beginning, for 10 years now. Working with the small to medium-size business owner fits with my personality. We get opportunities to work with larger companies, but we don't always pursue those, as they don't fit as well with our culture."
Hayden continues, "Our setup, processes, and systems are all geared for small to mid-size businesses. Sales conversations start with me or one other person, so out of 11 people there are only two focused in business development. Most of our competitors are more sales driven. With us, service comes first; we sell Dell, HP equipment, all the top line of gear, but where we shine is our commitment to making sure those things do what the business needs them to do. We make sure the equipment or network stays dependable, to keep the cash register ringing," he adds.
Because his service team makes for the bulk of his employees, hiring the right service technician is key. Hayden only hires candidates with very specific qualities.
He explains, "We specifically look for that knowledgable person with great communication skills. A person can be brilliant at what they do electronically, but doesn't enjoy interacting with customers. We need the person who enjoys the interaction, and who can break down problems or solutions simply. Someone who is able to use analogies and other types of communication skills to help that business owner understand the issue or recommendation. That positive interaction is key to what we are about."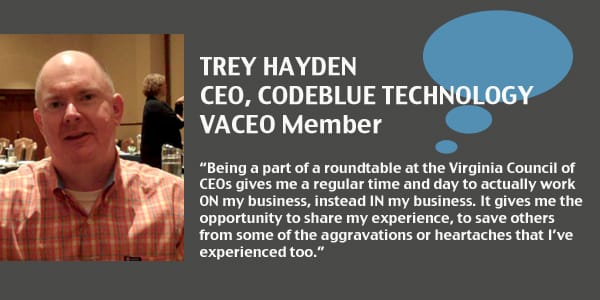 Posted by Scot McRoberts at 4:43 pm