Virginia CEOs Report Economic Outlook in 2013 1st Quarter Survey
Robins School of Business –Virginia Council of CEOs survey finds CEO economic outlook index up for first time in three quarters.
Each quarter the Virginia Council of CEOs (VACEOs) and University of Richmond's Robins School of Business partner to take the pulse of top executives in the region. The survey results provided by Jeff Pollack, assistant professor of management at the Robins School of Business, provide a snap shot of the overall economic outlook index for various companies within the region and help central Virginia companies anticipate business decisions and plan for growth. This quarter the survey reveals the outlook index is on the rise for the first time in three quarters.
Says Scot McRoberts, executive director of the Virginia Council of CEOs, "We finally have some good news to report!  This data reflects what many of the CEOs I work with tell me—they are as busy as they have been in years."
VA CEOs Economic Performance for 1st Quarter, 2013
Among the executives of small and mid-sized companies participating in the survey, 64 percent anticipate an increase in sales, up 5.8 percent from last quarter. Expected capital spending has increased 3.7 percent from last quarter to 29.3 percent. Employment expectancies also increased to 53.3 percent, up from 44 percent last quarter.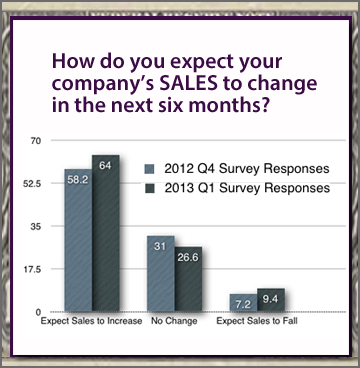 Says Scot McRoberts, executive director of the Virginia Council of CEOs, "When I look at our survey's results and listen to the challenges facing small company CEOs, I'm not surprised that there is an increase in the hiring percentage. I am hearing a lot about competition for talent in our market."
Business Performance Results
The survey also found staffing and financial issues, along with growth and economic uncertainty to be the most significant issues CEOs currently face. Some 29.7 percent of CEOs said their business performed about as expected over the past six months, with 14.9 percent saying performance was mostly better than expected, up 6.5 percent from the fourth quarter survey.
"We see in these data a departure from the previous trend of declining optimism—here, anticipated sales, projected capital spending, as well as employment growth are all more positive, relative to Q4 of 2012. And, the overall outlook index is up dramatically compared to Q4 2012," said Jeff Pollack, assistant professor of management at the Robins School, who calculated the results. "Staffing issues, financial issues and too slow growth are the top three areas of concerns noted by the current sample of CEOs."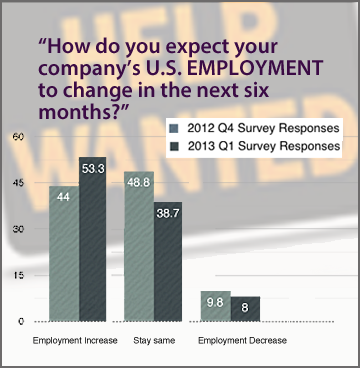 About the 2013, 1st Quarter Robins School of Business / VACEOs  Economic Survey
The Quarterly Outlook Survey is conducted jointly by the Virginia Council of CEOs and University of Richmond's Robins School of Business and is an adaption of the national Business Roundtable survey conducted by an association of CEOs of American companies.
This quarters results were based on the collected responses from 75 CEOs in central Virginia. The average annual revenue year-to-date for CEOs responding was $10.8 million. The data were compared to the fourth quarter 2012 of 91 participants. Multiple industries are represented in the sample (for example, construction, manufacturing, finance and insurance, and retail).
The results also provide an overall economic outlook index, which is based on businesses' projected six-month sales, spending and employment figures.
Request Results
The VA Council of CEOs continues to expand the survey beyond its members, offering any area business owners whose companies gross at least $1 million in annual revenue the opportunity to participate. If enough businesses participate, the Council will provide survey results by industry. Participation is free, and all participants will receive copies of the survey data.
Business owners and CEOs who would like to participate in the next survey should contact Scot McRoberts at smcroberts@vaceos.org.
Posted by Scot McRoberts at 7:40 am