VACEOS Member David Bender: Inside the Passion (Part II)
In our first David Bender, Inside the Passion article, we learned that David's drive for success came at a very early age. Today the Weeded! Lawn Care CEO is in the midst of transitioning to a new open management style.
He is clearly enthusiastic about his company's future.
David says, "Three years ago I read the book 'The Great Game of Business: Unlocking the Power and Profitability of Open-Book Management' by Jack Stack. I also heard him speak a few years ago at the Virginia Council's annual retreat."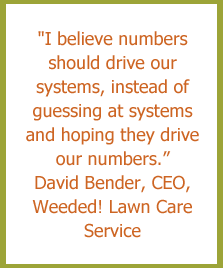 He continues, "The Great Game of Business is about sharing your business numbers with your people. The numbers are in effect, your companies' ultimate scoreboard. Your employees are assigned to teams with bench marks or goals to make. Each team has their own scoreboard; their scores contribute to the overall company score. Everyone is given incentives and the tools they need to positively affect change and improve their team's numbers."
He adds, "I believe numbers should drive our systems, instead of guessing at systems and hoping they drive our numbers. What happens is you now move away from a 'We have to do this because David said' culture to a culture where employees want to do better by the company. They want to be more efficient. They are incentivized to be perfect for customers. The system is the key to our profitability. It gives me the ability to step back from my business, to crush my peers in the industry and excel at customer service."
"Crush." "Excel." "Customer service." And that's the Bender Way.
About David Bender, CEO, Weeded! Lawn Care
David Bender has been an active member of the Virginia Council of CEOs since 2008. He is one of over 120 members who welcome the opportunity to share their business knowledge and concerns each month during member roundtable discussions. To learn more, visit VACEOS Membership.
Posted by Scot McRoberts at 5:16 pm