VACEOS Member Profile: Rob Jones, CEO Alliance Group Checks the Pulse of the Country. Are You Listening?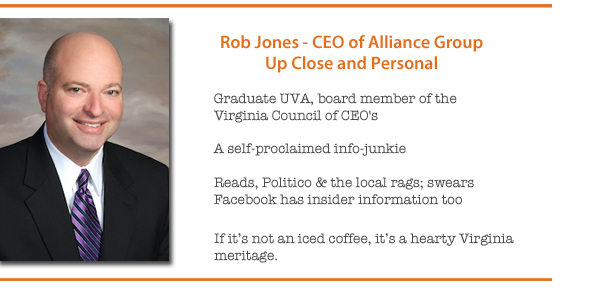 Stay two or three moves ahead and surround yourself with talented deep divers. That's how Alliance Group CEO, Rob Jones explains his ability to keep his PR and consulting business thriving, so much so he has afforded himself and his staff new digs on West Main Street. The space is the perfect environment to harbor a specialized staff who manages six different verticals across an extremely diverse client base. Rob's got his eyes and ears on the pulse of the country. Are you listening?
"I pride self on being a generalist. I try to know a lot about a variety of things, and I have the ability to connect dots. It's imperative that I am able to see what the next move is on the chess board and know what the next two or three moves should be for my clients and my business."
His firm, the Alliance Group, provides lobbying, public relations, grassroots, social media, fundraising and association management assistance to a diverse set of clientele, from various nonprofits and government agencies to companies like Pfizer and Walmart.
He continues, "My team dives deep into the subject matters we pursue, so I am able to look at the bigger picture while they are able to go into the strategic details with our clients. At the end day we build teams around each client. We find this approach works really well."
Each of Alliance's services sprung from specific opportunities to serve a particular niche. Some clients need a blend, or, says Rob, "We might have a government affairs client who only needs PR help, or an outside PR firm may come to us for our expertise in lobbying. We think there is plenty of opportunity in Virginia and other states to share business this way."
Creative problem solvers deserve a creative space. But in this economic environment?
It's hard to believe pre-civil war beds and mattresses once lined the walls of the current Alliance space. Now, it's a modern, open space with high end lighting, attractive artwork and an unusual greeting party. (Expect a welcome wag from Rob's two pups Lilly and Ella who are regular visitors.)
"We needed an open canvas and the opportunity to do something really unique." Like create a room divider made of tin roof and plastic, and a versatile loft area for additional talent and storage space. It works. Well. But it wasn't without the normal move in pains. When asked to offer up some office renovation advice, Rob says, "Expect a lot of red tape!"
So how does a PR firm stay successful enough to ride a lengthy and unsettled economic wave? "I have a great team here. They keep our existing clients happy and set the stage for new business. I also travel around the country searching for networking opportunities to bring in new business. I'm also happy to say we have been able to move existing clients to higher levels AND we are finding that as folks we've worked with move on to new opportunities, they take us with them, which I think speaks a lot to the quality of work our team does." And, Rob adds, he hungers to learn something new every day.
Economic pulse check.
Alliance's past and present client list includes the Virginia Wineries Association, Microsoft, US Chamber of Commerce and the Clear Channel, to name a few. The company has an ear to many industries. So what are they saying?
"The big thing right now is 'We've got to get to election day.' There seems to be a pause in decision making until we get there – whether it's artificial or not, it seems to be 'Let's see what happens on November 6," Rob reports.
He continues, "Once we get to that point there will be an explosion, no matter who wins. There is a pent-up demand for action. Major corporations have money on the sidelines that they need to do something with, but rather than take a gamble in the next 60 days they want an idea of what the rules they have to play under will be. I think there is a sense of optimism and people are ready to get going, we just need to get there."
Q: If you could give one piece of PR advice to politicians everywhere, it would be…
"Folks really want to know who the candidate is. I would say be real. Don't be packaged as someone you're not. If you don't believe in an issue, don't make it part of your platform but rather be honest with folks of where you are on it. That's difficult to do."
And another key piece of advice for politicians and business owners alike? Have a crisis plan in place. "The worst thing is for corporations to have four different people saying four different things to the media."
Does your company have a contingency plan in place should there be a crisis situation? What plans are you putting on hold until after the election? Please share your thoughts here.
Posted by Scot McRoberts at 9:20 am