CEO Profile: Kaye Crenshaw
Kaye Crenshaw started her career in the financial services industry where she enjoyed the flexibility of sales and helping people with their financial challenges. This also allowed her to be available for her two young daughters.  She always enjoyed making an impact on people's lives.  Kaye opened Mobility Center of VA in 1994, and since then has been able make a difference in her customers' lives every day.  She and her 25 colleagues spend their days "making it easy for those who have it tough," by providing equipment and services to the disabled community. Their products include wheelchair accessible vehicles, driving aides, elevators, stair-lifts, porch-lifts, and ceiling lifts.
With the aging of the baby boomers, Mobility Center is poised for growth as people will require home modifications to be able to stay in their homes.  Ninety percent of homeowners over the age of 65 say that they want to remain living in their homes as long as possible. Mobility Center can also help seniors remain mobile with vehicle modifications, scooter lifts or even a new vehicle. Mobility Center is unique in the industry because they provide both home and vehicle modifications.  This year, Kaye's husband Lee has opened a sister store in Norfolk called the Ability Center.  The Ability Center provides "Mobility products for your home, auto, and lifestyle"
Kaye has been a member of the Virginia Council of CEO's since 2005.  She tells us that the Council has been a resource for information and has provided an opportunity to get strategic help from some great friends and advisers.  Quite simply, VACEOs has helped her grow!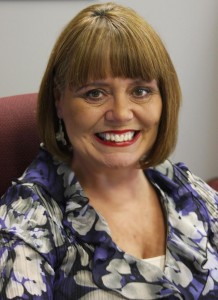 With her two daughters working with her at the Mobility Center, Kaye's business is a place she can call home, where they make a difference in people's lives every day.  When not at work, you can find Kaye spending time with Lee, enjoying her three grandchildren, and traveling whenever and wherever she can.
Posted by Scot McRoberts at 9:32 pm