All Smiles at the CEO Retreat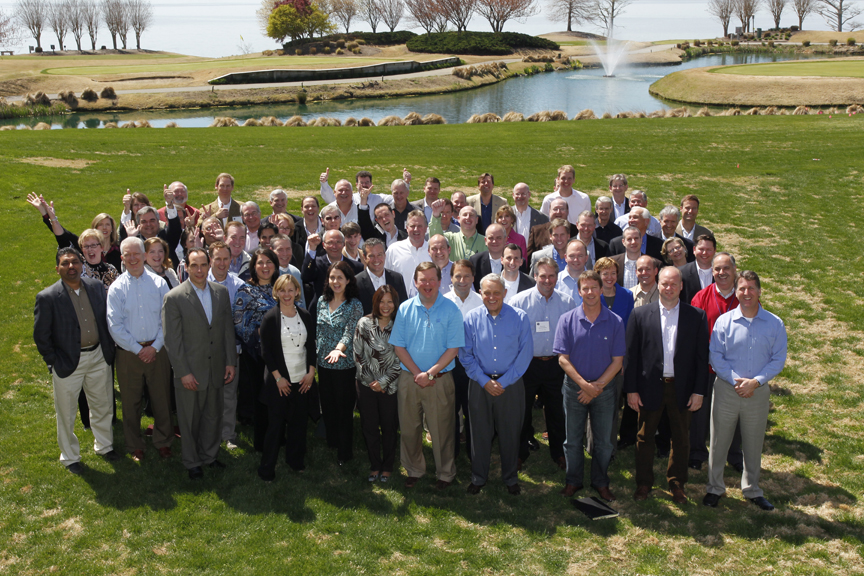 It's all smiles at the 2011 CEO Retreat at Kingsmill Resort.   Here are some highlights from today.
– It is hard to get to the meetings on time because there are so many cool people to talk to.
– Kingsmill always puts outstanding meals in front of us.
– Jay Goltz had the CEOs buzzing with his ideas about the "new" way to approach business.
– Somehow, we lined up 80 CEOs for this group photo in less than 10 minutes.  No herding cats jokes needed.
– Robins School professor Jeff Pollack awarded coveted VACEOs bat for his work on the CEO Economic Outlook Survey.
– President Obama and family rumored to be arriving soon (don't think he is here for our meeting).
– Eric Herrenkohl got us working on "How to Hire A-Players" and gives us the two most important interview questions.  1) Tell me a little about what you did in each previous job.  2) Follow up with broad, open-ended questions that get behind the programmed answers.
–
Posted by Scot McRoberts at 6:10 pm