Virginia SMB CEOs Less Optimistic Than The Big Guys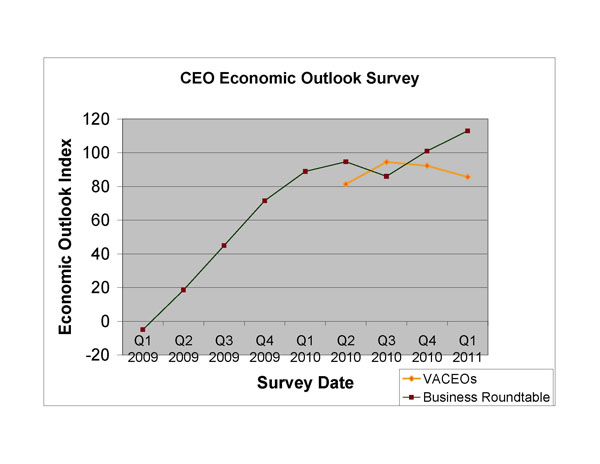 The First Quarter 2011 CEO Economic Outlook Survey for Central Virginia showed slightly lower expectations for the coming six months. While nearly 70% of CEOs expected increases in sales, only 40% saw increased hiring, and less than 30% expected increased capital spending.  The Economic Outlook Index, a composite representative of these data, dropped slightly from 92.27 to 85.63.
The Virginia Council of CEOs (VACEOs) / Robins School of Business survey mirrors that of the Business Roundtable (BRT), an association of CEOs of leading U.S. companies.  Interestingly, the BRT survey's index jumped significantly – up 12 points to 113.  This is the highest index since the BRT survey's inception in 2002.
The graph above shows both the VACEOs / Robins School and BRT indices. Clearly, small and mid-sized businesses (SMBs) in central Virginia are not experiencing the same intensity of recovery as large businesses at this time.  My interactions with VACEOs members tell me why.
Large corporations' moves during the recession to reduce workforce and limit spending helped them to maintain profitability and conserve cash.  SMBs made similar moves, but limited economies of scale prevented most from being able to come out of the recession with the resources to expand as the economy rebounds.
Small business did not get bailed out. The big guys did.   Token efforts by the Feds to stimulate small business lending had little effect on the street.
That said, some central Virginia SMBs are coming out of the recession like the VCU Rams in the NCAA Tournament! They appear to be the ones that went into it with low debt and cash reserves (the ability to pick off weaker competitors), or those that are bringing innovation to market.
Posted by Scot McRoberts at 1:38 pm