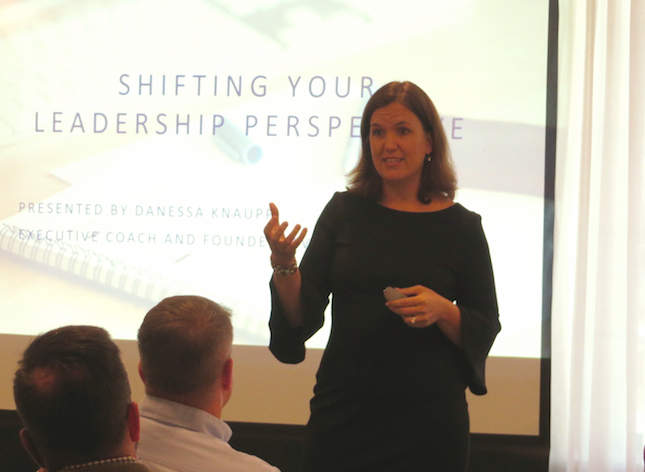 The average person makes more than 35,000 decisions in a typical day. "We are decision-making machines," says Executive Coach Danessa Knaupp. "We're making thousands of decisions a day – all the time – so naturally we develop a shorthand." But, Knaupp cautioned during a recent Knowledge Network luncheon, that shorthand could be holding us back.
"People who rise to positions of leadership are widely regarded as good decision-makers," she explained. "You get rewarded by the small and large decisions you make, over and over again. But the number-one reason leaders fail is they stick to a process that has delivered them up to a point but cannot deliver them further."
Her advice?
Change your perspective (realize the potential pitfalls of your shorthand)
Realize the information you're taking in is an assertion or opinion, NOT a fact
Broaden your perspective
Check Your Perspective. It's Probably Skewed
Knaupp teaches that all decisions we make flow up a Ladder of Inference. First, we select or gather data. The trouble is, our previous experiences affect how we perceive that information. For example, one CEO might look at an image and see a random putting green in the middle of a pond; another, one of the most iconic holes on the PGA tour. It's all about perspective.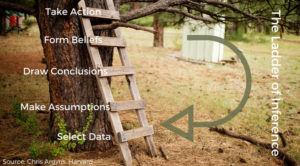 "We have a set of experiences – all of us – where we sit in a space with a huge pool of data and we select that data using our distinctions," says Knaupp. "Then we make assumptions about that data. We draw conclusions. Those conclusions form beliefs." From there, we make decisions. And this is where our shorthand can get us into trouble. Shorthand is very powerful, but it can handicap us. Once we've formed a set of beliefs, we're continually processing data selectively based on those beliefs.
Two Important Things to Know About the Ladder of Inference
Realize that the data before you is a tiny faction of the actual information available to you to make a decision.
Realize that what you believe is influencing any action you take.
So the next time you gather data on the flow up the Ladder of Inference, ask yourself, "Is this a fact, an assertion or an opinion?"
Great Leaders Distinguish Between Facts, Assertions and Opinions*
Fact: Something demonstrated to exist or known to have existed; an objective state that can be measured.
Assertion: Something declared or stated positively that cannot be objectively proven.
Opinion: A belief or conclusion held with confidence but not substantiated.
---
"The VACEOs roundtable experience offers leaders an opportunity to gather a broad set of perspectives on the challenges they face. Those confidential conversations allow each to broaden his or her view, noticing opportunities in a different way. By expanding perspective, leaders expand their potential solution sets in a way that is nearly impossible to do alone."- Danessa Knaupp, Founder and CEO, Avenue 8 Advisors.
---
Knaupp says that peer groups like the Council can be a useful tool for broadening our perspective. "The VACEOs roundtable experience offers leaders an opportunity to gather a broad set of perspectives on the challenges they face. Those confidential conversations allow each to broaden his or her view, noticing opportunities in a different way. By expanding perspective, leaders expand their potential solution sets in a way that is nearly impossible to do alone."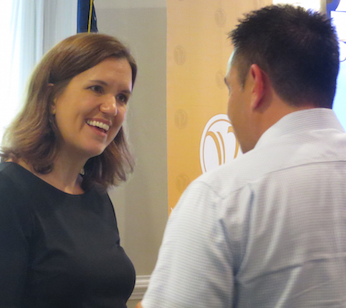 Summing It Up: How to Shift Your Perspective:
Come down from your ladder.
Explore facts vs. assertions.
Seek ways to broaden your perspective.
*Source: "Shifting Your Leadership Perspective" VACEOs Knowledge Network presentation by Danessa Knaupp, Founder and CEO, Executive Coach, Avenue 8 Advisors.
Posted by Staff at 3:53 pm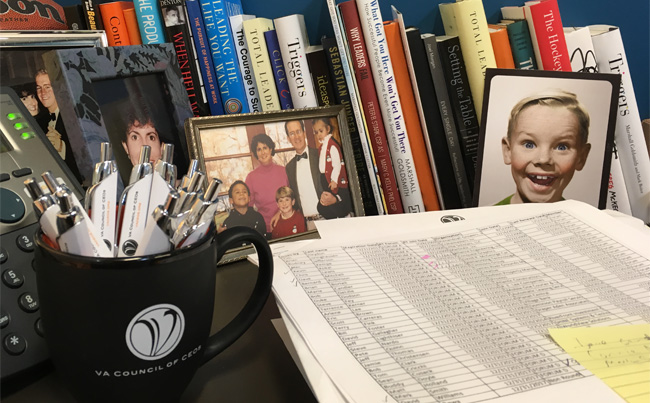 35,000 decisions a day.
Ever since Danessa Knaupp shared that statistic with us at her presentation last month, it has been gnawing at me. Certainly most of these decisions are tiny and meaningless. But hundreds must be meaningful, having impact on others in my orbit. I am working on better decision-making in several ways.
First, I have been looking critically at my own beliefs and broadening the data that I consider when making decisions. Certainly, hewing to long-held beliefs makes decision making easier, but I'm don't think it is the best way in this rapidly changing world.
I also rely on my CEO roundtable as a source of perspective. I love the way that our discussions broaden my view and help me see my own blind spots.
Finally, I am making a point of seeking out and engaging people different than me. It is not easy, but I am always enriched by the experiences of others, especially when they are different from mine.
As we enter this season of peace and goodwill, I encourage us all to draw closer to one another and to connect in meaningful ways. Whether that is a CEO roundtable, your church or another group, let's seek out experiences from diverse sources. Our leadership decisions will be better for it.
Best wishes for a successful year-end and a happy holiday season,
Scot
Posted by Staff at 3:52 pm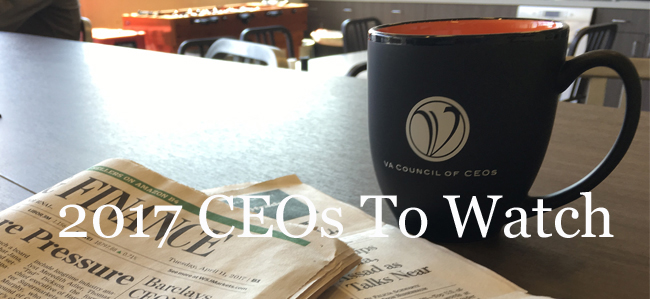 The company we keep is mighty fine. In fact, our members are frequently listed within the annual RVA 25 and Inc 5000 "fastest growing" company lists. This year we find our members on Venture Forum's "RVA Companies to Watch in 2018" list as well.
We'd like to formally congratulate ALL these amazing business leaders on their success. Honored to be in your midst.
VACEO Members Top 2017 Business Lists
VACEO Members Top 2017 Business Lists
Posted by Staff at 11:52 am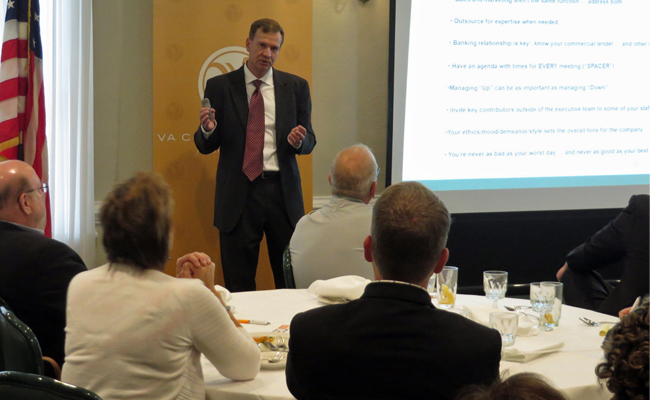 The two businesses could not be more different. One company (Honeywell) is a multi-national, publicly traded Fortune 100 conglomerate that produces an array of products, serving a wide variety of industries and employing over 130,000 people around the world.
The other (Kloke Group) is a small, privately held, local and interstate moving and storage company with revenues under $20 million and approximately 150 employees and contractors.
But Greg Herceg, consultant for Warren Whitney and former Honeywell exec and Kloke Group CEO, says these two dissimilar businesses offered him very similar leadership lessons during his time at each. While he was at Honeywell, Herceg led an $84,000,000, 250-person global business unit. He then moved on to Kloke Group, where he increased the company's total revenue by over 30 percent and diversified its revenue base, among other accomplishments.
Herceg candidly described his trials, tribulations, successes and challenges in a recent Knowledge Network presentation. He shared what he's learned about motivating employees, hiring outside resources, maintaining financial dashboards, strategic planning and much more.
Like many CEOs, his biggest challenges involved employee management. "I wish I had paid a lot more attention to my HR-related classes than to the heavy finance classes [at Darden School of Business], because that's what I spent most of my time on at both companies – HR-related issues," said Herceg.
"The most important lesson I've learned in leadership is to build a strong team around you through developing deep, trusting relationships and by understanding how to uniquely motivate each person. A close second to that is to leverage your internal resources in order to grow by collaborating and partnering with those outside of your organization," says Herceg.
Here are a few more takeaways from his presentation to VACEOs membership. In regards to #5: We couldn't have said it better ourselves. Thanks for sharing your experience, Greg!
---
Five Memorable Lessons in Leadership
(Source: "Lessons from the Trenches" Knowledge Network presentation; Greg Herceg, Consultant, Warren Whitney)
A Controller is not the same as a CFO. "Controllers tend to look back. CFOs tend to look forward. But they are both very important."
Financial dashboards are a must. "Especially for CEOs who are more marketing or sales or technically oriented. It's very important to keep a pulse on your financial health."
Update your strategic plan. "Create a new plan at least every three years."
Expanding your market? Consider partnering with other businesses. "I encourage you to look for opportunities to partner with companies on things that are hard for your business to accomplish on its own."
It can be lonely at the top, but it doesn't have to be. "You guys are here at the Council, so you know this: Being around other CEOs is wonderful. It's so great to be able to talk and learn. And sometimes misery loves company. Sometimes it's reassuring to talk with other people who are going through the same things you're going through."
---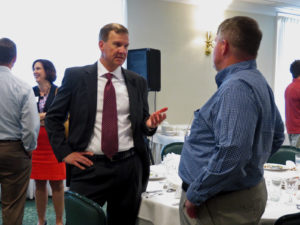 This moment courtesy of "Lessons from the Trenches." Greg Herceg, former VACEOs forum member, currently a director at Warren Whitney.
Posted by Staff at 1:07 pm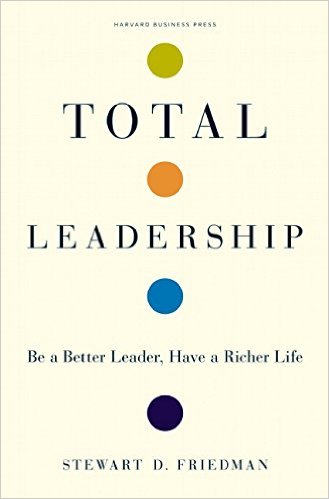 Council member George Forsythe called me last fall. He told me that like most CEOs, he has struggled with work-life balance, trying to fit it everything in, and reacting to everyone else's needs. He told me how he had found Stew Friedman's Total Leadership and he started changing his life. George shared that he now enjoys better health, better relationships with family and co-workers, and increased community involvement. George said, "I feel much more in control of how I choose to spend my time."
I happen to know 200 more CEOs who face the same challenges! I got off the phone with George and called Stew. I learned that he did not develop his work in some ivory tower, but in the trenches at Ford Motor Company. Stew now teaches Total Leadership to business students at the Wharton School, where his course is perennially ranked a favorite. And, he takes his life changing work to major corporations all over the globe.
We convinced Stew to offer a one-day workshop for us in Richmond on October 13. We are opening up this workshop to area CEOs and their executive teams. I hope that you will take the time to change your life for the better. You can learn more and sign up here.
Posted by Scot McRoberts at 5:40 pm
---