You could feel the electricity in the air as nearly 100 women executives and MBA students gathered for the second annual "Future-Proofing Your Career" event co-hosted by The Richmond MBA at the University of Richmond's Robins School of Business and the Virginia Council of CEOs.
"The Importance of Mentoring" was the theme of this year's event, and setting the tone for the afternoon was keynote Linda Schreiner, Senior Vice President of Strategic Management for Markel Corporation and former Senior Vice President at MeadWestvaco. Her presentation was followed by peer roundtable sessions facilitated by several VACEOs Members and Sponsors.
"The Virginia Council of CEOs appreciates partnering with the Robins School on this event," said Connie Bruce, Director of Operations & Member Services, Virginia Council of CEOs. "It's great for our own Members, but it's also great for the business community as a whole to focus on women business owners and business executives. The energy is incredible – they come and they learn from each other by sharing."
Jennifer Boyden, Heart Havens CEO and VACEOs Member, was happy to share her knowledge with the women attending the event. "I'm here because I'm a member of the Council," she explained. "I believe in experience sharing, and I believe in creating pathways and networks for women so that we can all grow stronger together."
"I came last year and loved it," said one participant after the event. "I invited three people to come this year, and all of them loved it. I felt like I paid forward something!"
"SUCCESS IS WHAT HAPPENS ONE PERSON AT A TIME"
Keynote speaker Linda Schreiner welcomed the opportunity to address the crowd about mentoring, saying it's "a subject I'm pretty passionate about and was thrilled to be able to have an opportunity to share it with people – and then especially have members of the audience be able to talk further about it in their breakout groups."
During her presentation, Schreiner discussed her experience in career counseling and as part of MeadWestvaco's formal mentoring program, and answered questions participants submitted before the program began. She also talked about what happens when a mentorship isn't a good fit, finding the right mentor, mentoring versus sponsoring, power and gender dynamics, and getting the most out of the relationship for mentors and mentees.
"Success is what happens one person at a time, one relationship at a time," said Schreiner. "I think we should just start with that one relationship that we choose to invest in and give that our all. Don't try to do everything and don't try to over-program things…"
"It's also really important to know when you're finished," she added. "In the end, I hope you get the same joy out of mentoring that I do, because it's just wonderful to see people try to achieve goals, work hard and actually succeed."
VACEOs MEMBERS AND SPONSORS LEAD ROUNDTABLE DISCUSSIONS
All attendees participated in pre-arranged peer roundtables facilitated by VACEOs Members and Sponsors and other business leaders. As VACEOs members quickly learn, these kinds of sessions can be a powerful tool for testing new ideas, solving problems and learning from others who've had similar experiences. Learn more about roundtables.
"At our tables today, we were able to facilitate very powerful discussions through a structured model," said Stephanie Ford, Director at Warren Whitney and VACEOs Sponsor. "Everyone had the opportunity to share their challenges and also be able to share in a very respectful way about their experiences and lessons learned so that others could benefit from them."
Many participants formed new relationships that will likely last beyond the day. Said one attendee of her roundtable experience, "It was amazing! Great. It was great. Very refreshing. I just felt like I didn't know anyone in my group, and I felt like they were my best friends at the end of it. I learned a lot about myself."
Another said, "It was super-helpful to hear from women who have been in similar situations as I, but also in different, and to see the themes that run through our lives." Yet another added, "It was incredible. Super-inspiring and loving all the advice and all the incredibly smart people that share all their wisdom with the group. It was incredible. Loved it."
Debbie Fisher, Associate Director for The Richmond MBA at Robins School of Business, is already looking forward to next year, saying: "[Linda Schreiner] did an amazing job – really talked about how women can help lift each other up – and we are so excited about next year!"
Special thanks to the VACEOs Members and Sponsors who facilitated roundtable discussions during this event, including:
Melissa Ball, CEO, Ball Office Products
Jennifer Boyden, CEO, Heart Havens
Roxanne M. Brown, CEO, The Change Decision (Sponsor)
Debbie Fisher, Richmond MBA (Sponsor)
Stephanie Ford, Director, Warren Whitney (Sponsor)
Connie Hom, President, Buckingham Greenery
Melissa Laughon, Partner, Catch Your Limit (Sponsor)
Arlene Lee, President, R.E. Lee Companies
Danessa Knaupp, CEO, Avenue 8 Advisors (Sponsor)
Ryann Lofchie, CEO, The Frontier Project
Michele Rhudy, President, Rhudy & Co.
Jennifer Perrow (Alumni Member)
Katrina VanHuss, CEO, Turnkey (Alumni Member and Past Chair)
Posted by Staff at 2:43 pm
Annnnd that's a wrap! Another great VACEOs Retreat is under our belts. We took a pause from work, enjoyed ourselves, connected and learned. Our tranquil setting this year – the luxurious Homestead Resort in Hot Springs – gently eased us into two days of self-reflection and study as each speaker, in their own way, invited us to take a look inward and then take action.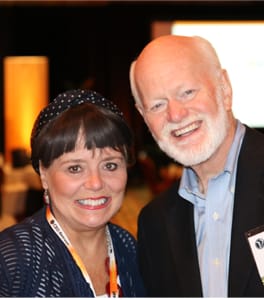 Our opening speaker, Marshall Goldsmith, asked us to take a hard look at ourselves and our behavior. He shared great leadership coaching tactics and concluded his lecture with this personal coaching advice:
1. Be happy now.
2. Life is short, so have fun now!
3. Help people.
4. Have a dream and go for it!
Joel Salatin challenged us to aspire to NOBLE goals – not those of the traditional business sort. We won't soon forget his lesson on "10 Ethics-Based, Contrarian Business Ideas," focusing on a world in which sales targets and trademarks don't exist, the local ecology is honored, and the phenotypical uniqueness of life – including seasons, cycles, ebbs and flows – is respected.
And like Goldsmith, Salatin reminded us to enjoy NOW: "The times of our lives will always trump the paychecks of our lives."
Related article: Sights and Sounds from VACEOs Annual Retreat (Video) >
We were in awe of – and inspired by – the life of Vernice "FlyGirl" Armour. The Marine combat pilot and inspirational speaker reminded us that our actions affect many. She challenged us to make gutsy moves, to ENGAGE with our employees and partners, and to "squeeze the juice out of life."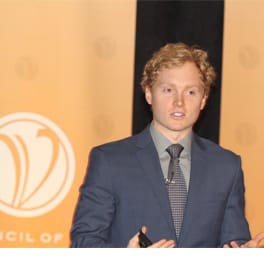 And while our last speaker, Connor Lokar, Economist at ITR Economics, spoke about business indicators and wage and consumer growth indexes, his ultimate message was relatively simple: To thrive during what he expects to be a year of growth and acceleration, the first step is to look inward; more specifically, to understand what business cycle you're in and where you're going. Essentially, "Carpe diem!" Seize the day and act accordingly, because a potentially injurious economic tidal wave is a'comin'.
Here's our checklist from the Retreat. What's on yours?

VACEOs Post-Retreat Checklist
3 Things To Do:
Determine what business cycle I'm in and how to react to important market indicators.
Determine one thing I can do to make a positive difference for myself and the world, and then tell someone to make me accountable.
Make a gutsy move to live an amazing, adventurous, epic, juicy life!
Posted by Staff at 9:19 am
(Video by TachLock.com)
There's nothing like discovering hidden treasures in a neighborhood you thought you knew – or savoring a certain delicacy you've never had – to get the conversation flowing. And that's exactly what happened during the VACEOs Richmond Real Food Tour – part of the Council's Limited Access series of events.
"Limited Access events are specifically designed to introduce the membership to a fun and unique experience," says Scot McRoberts, Executive Director, VACEOs. "These events are intentionally designed to accommodate only a few people, which offers the participants a real VIP experience while giving them a chance to get know each other in a relaxed atmosphere."
Limited Access event attendees have discovered what it takes to manage a minor league baseball team, be a local beer brewer, and compete on a curling rink. Uncovering local culinary gems in Richmond's Monroe and Jackson wards was on the agenda for this most recent event.
Hosted by Maureen Egan, writer, "RHome" columnist and co-owner of Real Richmond Food Tours, the tour began at Maple & Pine inside the trendy new Quirk Hotel. Other stops included Mama J's, Pop's Market on Grace, Greenleaf's Pool Room, Chez Foushee and Rapp Session (Rappahannock River Oysters).
The group sampled a wide variety of dishes, including swordfish, catfish, collard greens, quail bruschetta, oysters, and amazing treats like the infamous Fat Elvis Ice Cream Sandwich from Greenleaf's and Chez Foushee's lemon butter cake, to name a few.
Along the way, VACEOs members learned about the historic neighborhoods, discovered hidden murals decorating forgotten alleyways, got a lesson on how to hit a cue ball just right, and, most importantly, got a chance to find out more about each other and share business experiences.
"What a great tour!" said Connie Hom, President, Buckingham Greenery Interior Landscapes. "I especially liked visiting Rapp Session – the spread of seafood there was great, and I really liked the smoked bluefish. I also really enjoyed the cake from Chez Foushee and the pool hall's signature ice cream sandwich. So yummy."
"The Council always puts together really interesting and engaging events," continues Hom. "It's one of the many reasons why I love being a member. I met some new people, and I was able to connect with members who aren't in my Roundtable."
"This was my first Limited Access event, and I really enjoyed it," said new VACEOs member and President of TK Promotions Todd Mawyer. "The restaurants were all new to me, so it was really great to get a feel for so many new places. Also, I really liked the size of the event, which gave me a unique opportunity to get to know a few of the VACEOs members I've never met before. Looking forward to the next event!"
Get to know your fellow VACEOs members and ease into a conversation that could change your business. Visit the VACEOS Events page and register for an upcoming event today!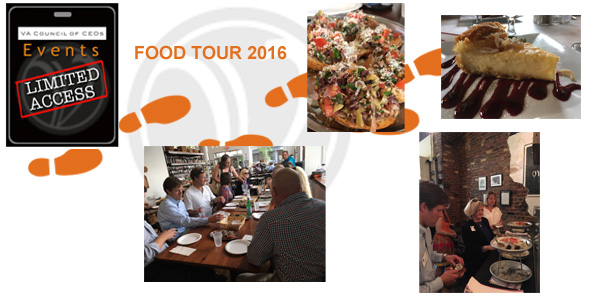 Posted by Staff at 2:42 pm