Several Virginia Council of CEOs members offered comments in a March 5 Richmond Times Dispatch article on the small drop in the unemployment numbers.  David Gallagher, President of Dominion Payroll Services, said that his firm had grown in 2010 and expected to add more employees in the next few months.  Gallagher said that his firm's clients are hiring more than they are terminating, and that growth is picking up.
Mike Meyer, CEO of NetSearch Direct, reported more talk of hiring among his company's clients, as well as steady growth at his own company.   In the Virginia Council of CEOs' and Robins School of Business Ecnomic Outlook Survey from January 2011, more than half of the CEOs surveyed indicated that they would be hiring in the first quarter of 2011.
Commenting on data from Council members showing flat employment in 2010, Council Executive Director Scot McRoberts was quoted:
What I am hearing now in 2011 is that people are starting to hire," McRoberts said. "There is that pent-up demand. They have grown a bit and now they need to add people."
Posted by Scot McRoberts at 10:23 pm
The Virginia Council of CEOs recently announced the program for the 2011 CEO Retreat.  This much anticipated annual event will feature presentations by small business blogger Jay Goltz and economist Alan Beaulieu.  Also speaking will be the author of "How to Hire A Players", Eric Herrenkohl and the CEO of Geomagic, Ping Fu.
The CEO Retreat will be held on April 6-8 at Kingsmill Resort in Williamsburg, Virgnia.  Your can download the CEO Retreat 2011 Brochure or see the VACEOs web site for more details.
More than 100 CEOs of small and mid-sized Virginia businesses are expected to attend.
Posted by Scot McRoberts at 3:17 am
Like many VACEOs members, the term "entrepreneur" describes David Ingram best.  He started his first business in high school at age 16, bought a competitor and then sold the combined business while in college.   After college, he succeeded in running sales and operations organizations for both privately and publicly held companies, but was destined start his own business again.  In 2001 he started Capital TechSearch to leverage his years of experience making the right and wrong hiring decisions to help his clients make the best possible decisions in building their most important asset — their people.
Capital TechSearch is a world-class technical recruiting firm supplying organizations with information technology talent on a contract, contract-to-hire, or permanent basis. Over the past nine and  a half years Capital TechSearch has earned an outstanding reputation for effective sourcing, deployment and management of key talent for some of  the regions' top private and public companies primarily serving  the health care, web services, and government space.  This strength led Inc. Magazine to recognize Capital TechSearch as one of the fastest growing privately held companies in America for the past three years running.
Ingram's first book, "15 Bedtime Stories That Keep Entrepreneurs Awake at Night," was recently released and features stories from his 15 years of entrepreneurship.  Many members of the VACEOS shared their stories and gave Dave great suggestions on how to make the book even better.   Learn more at  www.15bedtimestories.com.
Dave has been a member of the VA Council of CEOs for four years.  He is on the board and has served on the membership, sponsorship and retreat committees.  He is currently the 2011 CEO Retreat chairman.  Dave gives the VA Council of CEOs credit for helping him make it through the ups and downs or running a business.  He calls his CEO Roundtable his "oasis" – a place of refuge to work on his business, to get perspective and inspiration.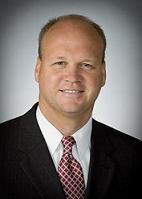 A graduate of Hampden-Sydney College, Dave frequently lectures on business topics. He and wife Meridith and their children live in Richmond.
Posted by Scot McRoberts at 9:00 pm
CEOs in central Virginia have an optimistic view of business and the economy for the next six months, according to the 2010 CEO Economic Outlook Survey.
The area's top executives anticipate an increase in sales and forecast an increase in capital spending, 3rd quarter survey results show.

The Virginia Council of CEOs and University of Richmond's Robins School of Business jointly conduct the quarterly economic outlook survey, which helps central Virginia companies plan for growth. Additional findings reveal that only 8% of CEOs surveyed expect to reduce employment.

"These findings echo what I have been hearing from Richmond area CEOs. They are moving out of a period of risk-avoidance and into a time of opportunity," said Scot McRoberts, executive director of the Virginia Council of CEOs. "Small and mid-sized businesses will bounce back faster because they are nimble.  However, many are constrained by the difficulty of obtaining financing for growth."

The results from last month's 3rd quarter survey and the 2nd quarter survey show CEOs' sales, spending and employment projections for the next six months.
2010 Q3
2010 Q2
Increase
No

Change

Decrease
Increase
No

Change

Decrease
How do you expect your company's sales to change in the next six months?
72.0%
18.7%
9.3%
54.4%
38.9%
6.7%
How do you expect your company's U.S. capital spending to change in the next six months?
46.7%
33.3%
20.0%
35.6%
42.2%
22.2%
How do you expect your company's U.S. employment to change in the next six months?
52.0%
40.0%
8.0%
41.1%
52.2%
6.7%
The council and Robins School surveyed 73 area business owners and CEOs of companies with more than $1 million revenue in central Virginia. Results were calculated by Jeff Pollack, assistant professor of management at the Robins School, who adapted the survey from the Business Roundtable. The economic index is based on businesses' projected six-month sales, spending and employment figures.
Economic Outlook Index
| | |
| --- | --- |
| Survey Date | CEO Economic Outlook Index |
| 2010 Q3 | 94.47 |
| 2010 Q2 | 81.33 |
"We are excited about these data. If the trend upward in the CEO Economic Outlook Index continues, it could represent positive economic news for the Richmond area and surrounding region," said Pollack.
Business owners and CEOs who would like to participate in the next survey should contact McRoberts at smcroberts@vaceos.org.
Posted by Scot McRoberts at 12:31 pm
I was fortunate to be included in a gathering of business leaders last week at Luck Stone's beautiful headquarters in Goochland.  We were there to listen to Jim and Bobby Ukrop share some of what they learned in their remarkable business careers with Ukrop's Supermarkets (now Martin's), First Market Bank (now Union First Market Bank), Ukrop's Dress Express, Ukrop's Homestyle Foods, and other ventures.
Jim and Bobby are both very humble, yet intensely competitive.  They are also committed to the Richmond community.  We are fortunate to have them.
This may not do their comments justice, but here is a summary of some of the points the Ukrop brothers made.
1. Curiosity fuels innovation:  constantly learn from peers and outside advisors
2. Constantly reinvent the business
3. You have to have a passion to be the best
4. Brand is delivering promises through people
5. Clear Vision, Mission, and Values guide decisions
6. Everyone is in the customer service business
7. Differentiate:   if everyone goes one way, consider the opposite direction
. . . and 8. Luck!
Posted by Scot McRoberts at 2:53 pm
---