Retreat 2023 FAQs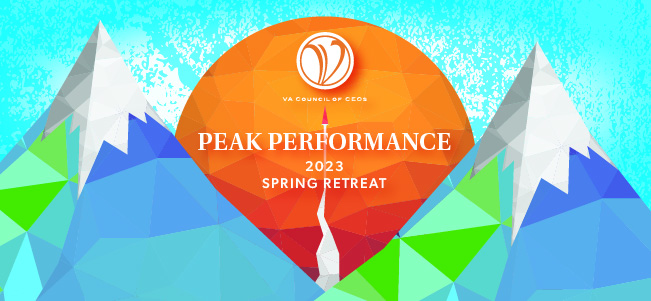 The 2023 Spring Retreat will be held at the Hotel Roanoke in Roanoke, VA from April 26-28. Are you new to the Council, or just haven't made a Retreat in a while? These answers to some of the most frequently asked questions about the Retreat experience may help.
VACEOs Retreat 2023 FAQs
Q: DOES MY MEMBERSHIP INCLUDE ENTRY INTO THE RETREAT?
A: Yes. Your VACEOs Membership includes a ticket to this special yearly event where members are able to learn and connect with national thought leaders and each other. (And have some fun too!)
However, you must register by March 24 to access this benefit at no charge! Register after that date and it will cost you $250.

Q. WHAT DOES REGISTRATION INCLUDE?
A: Members who attend the Retreat have a one-of-a-kind opportunity to learn and connect with national keynote speakers and local workshop presenters. Meals and program from Thursday morning to Friday mid-day and special evening events are also included for members.
Membership does not include hotel rooms/expenses or special activities. Visit the 2023 Retreat Registration page for a detailed listing of the activities available at this year's event.
Q: THE FIRST SPEAKER STARTS ON THURSDAY MORNING. SHOULD I COME WEDNESDAY NIGHT?
A: Yes! We recommend that you come in on Wednesday – most participants do – for the Opening Reception and special activities like golf, which are available that day. To maximize your time making connections, choose one of the group activities planned that day.
Visit the 2023 VACEOs Retreat Schedule for a full listing of events for each day.
Q: DO I NEED TO BOOK A ROOM?
A: Yes. As soon as possible! We have a block of rooms reserved through April 4. Use the special group link found in your confirmation to make your reservation. Book April 26 for two nights, unless you plan to drive in early Thursday morning, and miss the fun on Wednesday.
Q: SHOULD I BRING MY SPOUSE OR SIGNIFICANT OTHER?
A: The Retreat program is designed just for members and sponsors. We recommend that you immerse yourself. After all, this is a business retreat. We will have guest tickets for our two evening social events. Some folks have their spouse join them on Friday afternoon for an extra night or two of R&R. We will gather those who stay over Friday night for a drink in the lobby bar.
Q: IS THERE A DRESS CODE?
A: Not really. Let's call it business casual or resort casual. Relax and be comfortable.
Q: I'VE ARRIVED AT HOTEL ROANOKE. NOW WHAT?
A: If you arrive Wednesday, please check in the hotel, (time permitting), before you make your way to the group activity you've registered for or take advantage of other resort amenities, such as the spa.
If you arrive Thursday morning, we will officially welcome you at the Retreat Registration desk located in the foyer outside the Roanoke Ballroom at 8:00 am.
Still have a question? Please contact us!
About VA Council of CEOs Spring Retreat
The VACEOS Annual Spring Retreat features acclaimed keynote speakers and workshops tackling the challenges that are most on the minds of small and mid-sized business owners of today. The event also includes time for networking and making connections. CEO members often say the Retreat is "worth the price of membership." The event is included in membership. Learn more about VACEOs Member benefits.
(VACEOs Members and Sponsors only. Guest tickets available for CEOs interested in the Council.)
Posted by Aida Pehlic at 5:09 pm