VACEOS Members Make INC 5000 Fastest-Growing 2021 List

The VACEOs community is made up of CEOs from some of the fastest-growing businesses in the region. This year, 310 Virginia companies made the most recent Inc. 5000 "fastest-growing" list, including several VA Council of CEOs members who continue to make repeat appearances.
Special congratulations to those making the INC 5000 list for the first time: Justin Etheredge of Simple Thread and Paul Habenicht, of VetEvolve.
To these leaders below, we say congratulations, and well done!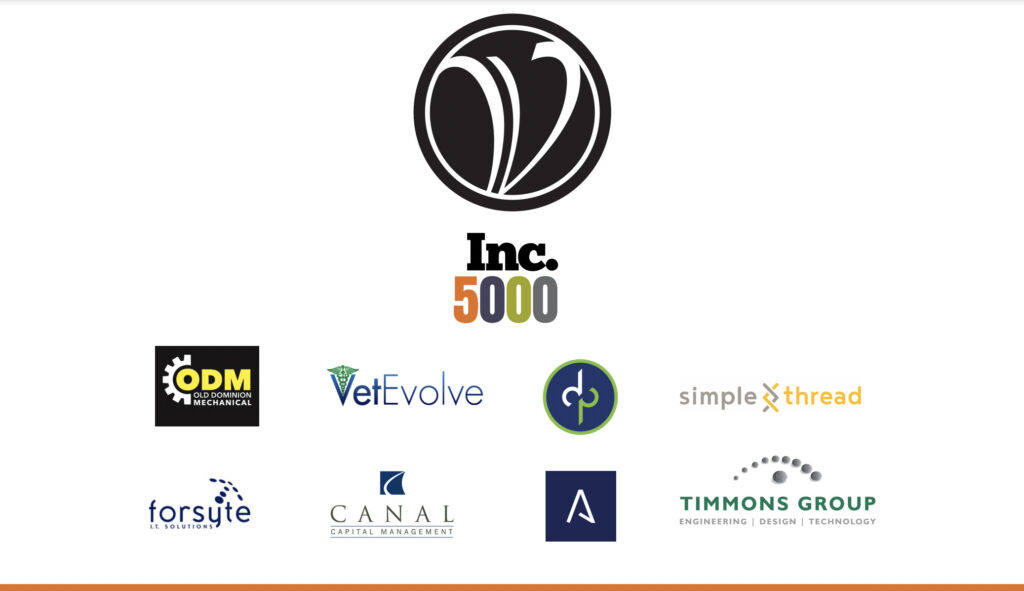 VACEOs Members Making INC. 5000 (2021)
VACEOs Member Business Rankings
| | | | | | |
| --- | --- | --- | --- | --- | --- |
| Rank | Member | Company | Growth | Industry | City |
| 4,696 | Brian Bortell | Timmons Group | 52% | Engineering | Richmond |
| 2,825 | Justin Etheredge | Simple Thread | 141% | Software | Glen Allen |
| 4,509 | David Fratkin | Dominion Payroll | 59% | Financial Services | Richmond |
| 4,723 | Neil Gilliss | Canal Capital Management | 51% | Financial Services | Richmond |
| 2,264 | Paul Habenicht | VetEvolve | 188% | Health | Richmond |
| 1,455 | Chuck McBride | Forsyte I.T. Solutions | 325% | IT Management | Richmond |
| 4,466 | Eddie O'Leary | Colab Multimedia | 60% | Advertising & Marketing | Richmond |
| 1,246 | Jock Wheeler | Old Dominion Mechanical | 386% | Construction | Richmond |
Source: Inc 5000 (2021), https://www.inc.com/inc5000/2021
Posted by Staff at 3:21 pm