Bringing Back An Iconic Brand: The Stuckey's Story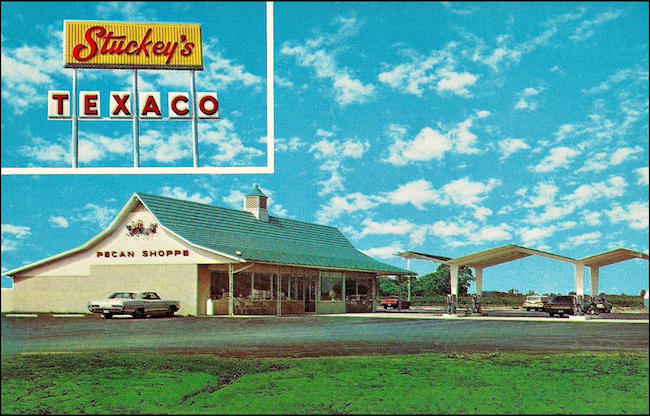 Stuckey's is one of those iconic brands of the 60s and 70s that's hard to forget. Peaking during a time when taking a road trip in your woody station wagon was the rage and the thought of a night's stay at the Howard Johnson's or Holiday Inn made you giggle with glee, brands like these became classics many of us came to know and love.
The Stuckey's roadside stop and its famous pecan log rolls began to lose their luster in the 80s but have now seen a resurgence, thanks to the founding father's granddaughter, Stephanie Stuckey. But why, in 2019, would this environmental lawyer by trade take on the family business in its last hour of life?
"I think what really drove me more than anything is that I knew my grandfather and I knew his vision for Stuckey's and it just broke my heart to see how the company had floundered. Nobody either had the capacity, the capital, the wherewithal. Nobody wanted it," she reveals during her presentation to a VA Council of CEOs audience.
Six months after buying a sizable sample of shares, the business turned a profit under her guidance. For Stephanie there was no turning back. Fueled by her love of the brand, she bought her father out. Today she is honoring what is sacred in the business but is determined to shake off what is not working.
Here is how this passionate and determined CEO is bringing back this iconic brand.
But first, a trip back in time.
Uniquely Stuckey's
The history of the iconic Stuckey's brand began during the Great Depression, when W.S. Stuckey, Sr. had to drop out of law school to work the family farm. Desiring a better life, he had a side hustle selling pecans on the side of the road. There he recognized a need.

"He saw very quickly that the problem was, especially in that time, people were traveling the roads and didn't have reliable places to pull over and get gas and have a cold drink of water. We really were the very first roadside retail chain," says Stephanie. At its peak in the early seventies, Stuckey's claimed 370 stores in over 40 States, every major interstate highway system, except Pacific Northwest.
Stuckey's was the place to "Eat Here and Get Gas" as its famous tee shirt expressed. The chain featured Stuckey's candy products and quirky merchandise, including games for the car, small toys, and various other sundries to make the road trip convertible and memorable.
"I think a lot of it was the experience we were unlike any other roadside stop," says Stephanie. "At one point we had talking Mynah birds in the store. We had quite a few stores that had their own honeybee hives and made honey on site."
Stephanie reports that franchisees were almost always a husband and wife team who often lived in the back of the store. Often the wife made special recipes to supplement the standard menu. This gave each Stuckey's a similar but uniquely local feel.
"My grandfather believed in having a unique, curated experience. So you would go to a Stuckey's on Stuckey's in Florida you would get fresh citrus fruits out front and there would alligator souvenirs. You would have things that were special to that area. We had a candy plant, a trucking company, a sign company. Things were going gangbusters and then he sold the business to Pet Inc.," reports Stephanie.
Fast forward, corporate merger after corporate merger, the brand became a subsidiary of a large corporation. The family became disengaged and the brand began to disappear. Hundreds of stores were lost.
Stephanie's father bought the company in 1985, but the store-in-store concept further diluted the brand. Financially the business was losing money. Occupied by other projects like his father before him, he was ready to sell the company and trademark.
The final chapter of the brand was looking grim. If Stephanie didn't step in, outside investors would. "They were just going to buy the Stuckey's trademark and make a bunch of cheap, ugly chotchkies —souvenirs probably — and sell them on Amazon for cut-rate prices and cheapen the brand even further. And I was like, this is not the Stuckey's. This is not how we finish," says Stephanie.
The Brand Rebounds by Focusing on Visual Rebranding, Its Sacred Cow, Manufacturing, and Retail Sales
Stephanie immersed herself in the history of the company and religiously studied other nostalgic and new brands like Howard Johnson's, Chick-fil-A, and Nike. She learned what makes a great CEO. "There's no magic formula for what makes a great CEO. They have all these different characteristics and personality types and skills, but the ones that are really successful share one thing, and that is they surround themselves with people who fill in their gaps," she reports.
Simply stated, Stuckey's started to get back to its roots. "We're focusing on what we started as, which was a pecan stand on the side of the road," says Stephanie.
The game plan is relatively simple:
Shake off the bad
Keep the sacred cow
Build growth with manufacturing and retail sales outlets
Dream big
Shaking Off the Bad
"Bad (packaging and logo) design is what I'm shaking off," reports Stephanie. "So I invested in storytelling and I invested in beautiful design." She reveals that she takes inspiration from other nostalgic brands like Moon Pie and Little Debbie Snack Cakes. "They all have their classic line, but then they have fun with it," she says.
The logo has had a facelift and she plans to also make use of original artwork from the Stuckey archives. "I am spending very strategic dollars on what I think is the most important aspect of branding, which is designing. I really feel strongly about the look of the brand."
Keeping the Sacred
Stephanie believes in the company's "sacred cow", which is its pecan log roll, described as "Uniquely sweet and scrumptious, with a light, fluffy nougat center mixed with maraschino cherries which are hand-dipped in an antique copper kettle holding fresh-made buttery caramel." But like the packaging, the log rolls have been updated. They are larger and lack the high fructose corn syrup and artificial ingredients of the original.
And because she recently purchased a factory in the heart of pecan country, Stuckey's is literally tree to table.
Building Product and Sales Growth
Manufacturing the candies in-house and focusing on retail sales are what's driving Stuckey's current growth. "I want to see us making more of our product. What I think what the pandemic taught us is that we have all these supply chain breakages and the closer you can get to making your own stuff and having a connection with what you're making," she reports.
"We bought a manufacturing facility that shells pecans to make pecan candies. So that is the key driver of our growth is that we are selling our product to more retail channels. And we're not just selling to Stuckey's. We have some 250 plus, and it's growing every day. We're about to pick up a new chain of 250 new stores," she reports.
The website is revamped website, making it easy for people to go online and buy the products. Stephanie reports the merchandise is very popular. "The Get Gas shirt we made in the seventies. I brought it back. People love it! We have sold out and we are ordering more. And we've got coonskin caps, dunking birds, rubber alligators, and all the sort of kitschy fun merchandise that you might remember pulling over and seeing as a kid. And so we're bringing all that back and along with the fun of taking a road trip."
Big Dreams
What is next for the brand? Stephanie explains that she is not fighting to win over Gen Zs or Millennials, but rather plans to lean into nostalgia.
"I like to say we are a small brand with big, big aspirations. I want to be the embodiment of the road trip. That's my big dream. That is our big audacious goal. It's when you think 'road trip,' you think Stuckey's. And I want us to own our own stores and I want to be able to build the awareness of the road trip and a community of people who love to take to the open road."
It's not 5,000 stores or a thousand stores she hopes to build, but only a dozen or so, framed as Stuckey's Roadside Oasis complete with souvenirs, photo booths, vending and amusement machines, and amazing local food.
In the works now, a Stuckey's RV retro decorating line, complete with curtains and kitchie towels. No doubt this will tempt a new generation of road trippers!
We have no doubt that Stephanie's passion for the brand will keep this piece of nostalgia alive and well.
Source for story: VA Council of CEOs event: "THE STUCKEY'S STORY: BRAND BUILDING, PECANS, AND THE GREAT AMERICAN ROAD TRIP", May 13, 2021, 12:30 – 1:30 PM EST
Posted by Staff at 12:44 pm