5 Reasons NOT to Join a CEO Peer Roundtable Group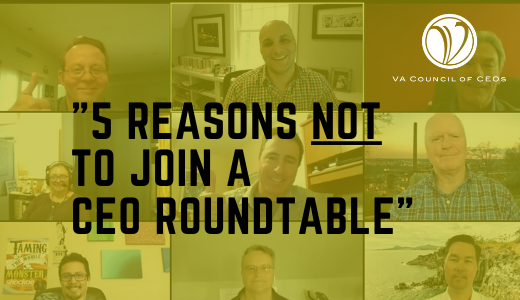 It's no secret that CEOs of small and mid-sized businesses get a lot out of their peer advisory roundtable group. Still, some say it's not for them. Here's why.
#1: "I DON'T HAVE THE TIME TO COMMIT TO A ROUNDTABLE MEETING"
If you run a small or mid-sized business, time is precious and time is money. Committing to a regular meeting with your CEO peer roundtable group could mean 4 hours a month AWAY from other activities.
The truth is, the CEOs who participate in a roundtable group have no more time than those who aren't in one. The difference is, they choose to focus on the return they get from the confidential experience. For example, an independent study by the Knowledge Advisory Group surveying VA Council of CEOs Members suggests that CEOs and business owners in peer roundtables make better decisions and grow faster.
Simply stated, these leaders have chosen to carve out time to work ON the business rather than in it.
#2: "MY BUSINESS IS UNIQUE, I WON'T GET ANYTHING OUT OF IT"
Having a unique business is actually a nice benefit, and in fact, the best roundtables are carefully assembled to achieve the highest degree of diversity possible. And that's great news for everyone as it can be easy to be siloed in your particular industry or niche, or be so close to your business that you fail to see potential solutions or opportunities. The peers sitting around the table will offer a variety of perspectives focused on similar issues or opportunities that creates those "blinding glimpses of the obvious".
#3: "I'M CONCERNED ABOUT CONFIDENTIALITY"
As the leader of your company, there are things that you can't discuss within your organization. Most likely, there are things that you can't even discuss with your banker, your attorney, your accountant, or other trusted advisors. It can be a lonely place, being a CEO.
A CEO roundtable is specifically designed to help remedy that "lonely" feeling. It is a highly confidential, "safe space" where the competition is not present. Nothing is shared beyond the group. This frees up everyone to be totally open and transparent with each other about business (and oftentimes personal) matters.
#4: "EVERYONE'S GOT AN ANGLE"
Not in a peer roundtable. The sole agenda item on the part of every member of a group is to help their fellow member through shared experiences and the lessons that they have learned from their journey. They know that in return their fellow members will have a similar focus.
#5: "I DON'T HAVE THE BUDGET"
The cost to be a member of a peer advisory organization like Vistage, EO, or VA Council of CEOs (VACEOs) varies greatly. An international organization like Vistage can cost more than $12,000* a year. Conversely, VACEOs membership dues are a quarter of that, largely because the organization is a nonprofit that keeps its overhead low to maximize the member experience per member and sponsor dollar invested.
The bottom line? Those who choose to join a peer advisory organization understand it's an investment in their professional development that will generate a worthwhile return.
*Learn more at: "EO vs Vistage vs VA Council of CEOs: Which is Right for Me"
---
Virginia Council of CEOs (VACEOs) is a nonprofit organization connecting CEOs for learning and growth. Formed more than 20 years ago, Member benefits include placement in a peer roundtable group and access to a thought leader network, and a robust program of events for learning and growth. This is not a networking group, but rather a group of CEO peers who are invested in the success of each member.
Learn more at www.vaceos.org.
Posted by Staff at 1:48 pm