[Video] VACEOs Turns Twenty. Here's a Recap With a Few Fun Cameos
What started as one small business CEO's need for a peer group has grown into the thriving state-wide organization it is today. In this fun video, we humbly nod to the past and warmly open our arms to the future. 
Says Scot McRoberts, Executive Director, VA Council of CEOs, "Twenty years ago, what started as a gathering of a dozen CEOs in the basement of a local chamber of commerce has grown to be more than 230 CEOs and 25 corporate sponsors. Now we're stronger than ever." 
"2020 has certainly not turned out the way any of us envisioned it," he adds. "We're disappointed we couldn't have a big anniversary party, but we've pivoted in remarkable ways. And our members and sponsors have responded. We've delivered programming virtually with keynote speakers like Cameron Harold, Marcus Sheridan, Colleen Stanley. And we started new roundtables, both in person and virtually, to serve more CEOs and more places. And the really exciting thing is, as we go into this fall, we're going to begin serving CEOs anywhere in the state, by setting up virtual roundtables for those CEOs, wherever they are." 
Surprise Cameos from Keynotes, Sponsors, and Members
The VA Council of CEOs Anniversary video revisits its roots, expresses optimism for the future, and includes some well wishes from past keynote speakers, including Marcus Sheridan, Elliot Eisenberg, and Colleen Stanley.

We also hear from VACEOs Sponsors and Members, who express why they value the Council and offer a special wish, like Elissa Mast, CEO, E&R Sales and VACEOs Member, who says, "Twenty years? I mean, that is amazing! It started with a couple of guys, and then now it's grown into a couple hundred CEOs, all adding value in their community. And 15 years I've been able to benefit from it and enjoy it. My heart is full of gratitude for Virginia Council…." Later adding, "Virginia Council impacts tens of thousands of people, and I'm just so proud to be a part of it. Congratulations, Virginia Council. Here's to 20 more!"
The 20-year anniversary celebratory video ends with a creative clip from VACEOs roundtable #09. 
Happy Anniversary to Virginia Council of CEOs. And, thank you VACEOs Members and Sponsors past, present, and future.
Now, together, let's go forward.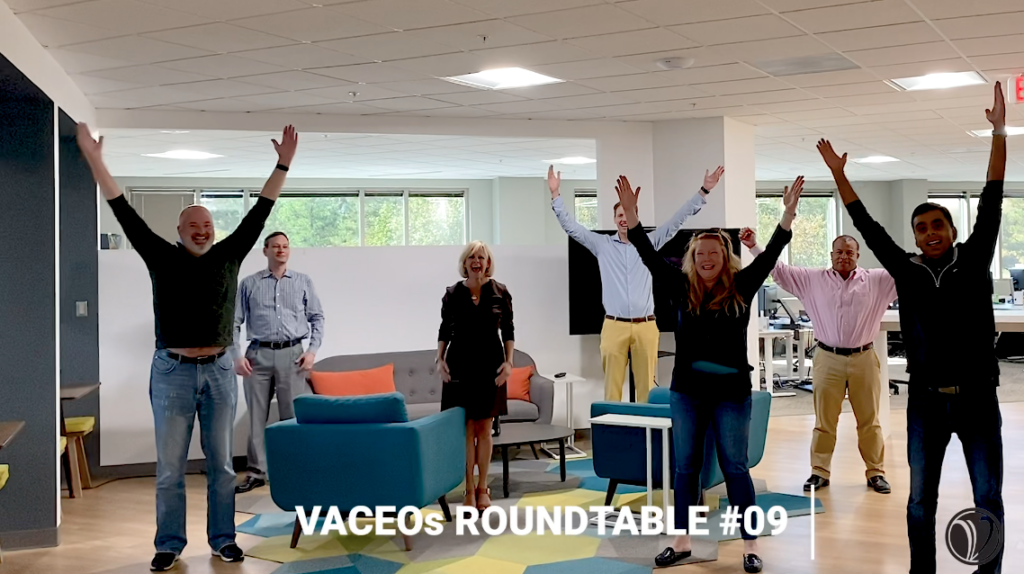 Posted by Staff at 3:47 pm