Rent-the-Help Rebrands, Young CEO Embraces Today's Challenges
It is a gap in the labor market that ultimately birthed two businesses, and the young CEO at the helm is embracing the pandemic challenges he now faces. 
"One of my favorite parts about being a business owner is being faced with challenges and then formulating different strategies to overcome them," says Corey Divine, president of Candidate Source and a member of VACEOs. "The past six weeks have presented unique challenges for my employees, clients, and vendors and together we have had to make adjustments. It is important to realize that everyone is dealing with this pandemic and the only way we can survive is to support each other and work together." 
Corey Divine's initial business, Rent-the-Help, opened in 2012. The business model filled a gap he saw in the residential labor market. It gave homeowners a place to go for help with odd jobs, like cleaning out a shed or helping with yard work.
Says the Charlottesville native:  "In the eight years we've been in business, we've probably helped 5,000 people move or do an odd project, whether it be stacking firewood, setting up for a yard sale, or move to Florida or Texas," he explains. "But as we got into more staffing and long-term placements in warehouses and administrative settings, the Rent-to-Help name just didn't fit fully as we grew," he adds.
Noticing the new niche, Divine developed a business designed to attract quality candidates and clients who were seeking long-term placements. And in 2020, Candidate Source was born.
Divine reports Candidate Source currently employs six different individuals to recruit and market his business.
"I'm really excited about the rebrand and how it positions us. I think that our team, most importantly, is excited about it. They all feel more confident telling people, 'Hey, we're with Candidate Source.' They feel better. And what's cool is that they've all been here, all my senior folks, who've been here for five plus years. So they've seen the evolution of the company grow and then they can enjoy this change as well," he explains.
About the new challenges he is facing, he adds, "Since our team spends the majority of their days interviewing candidates, we have had to significantly adjust our operation to ensure we can continue to deliver our clients the people they need. While expanded unemployment benefits have made recruiting more challenging (applications have dropped by 90%), our team has gotten creative and has been able to deliver what our clients need. During these difficult times it is a privilege to continue to service our clients and we look forward to building even stronger relationships with them in the months to come."
---
"Having my roundtable has been a blessing throughout the pandemic. The relationships I have built with roundtable #13 over the past few years have proven to be a solid rock during an otherwise unstable time." – Corey Divine
---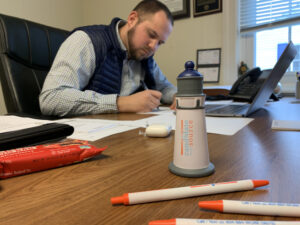 "A GOOD INVESTMENT" AND "A BLESSING"
Corey Divine joined the Council in 2017, making him a relatively new member. What motivated him to join? "Because I wanted to invest in myself and make my business better by making myself better," he tells us.
Adding, "I always joke that you might walk into your roundtable meeting or walk into a Quarterly Lunch and you're just super-stressed or struggling with an issue in your business. And I can't think of a time where I walked out more stressed than when I walked in. I always feel calmer. And I think that's just because it provides an education and a confidence as you go about your day. You look at all these folks, at what they are doing and how they are impacting our community in a positive way. I want to do more of that. It breeds a growth mindset, which is really exciting."
Members within the VA Council of CEOs are placed within confidential and highly-structured peer groups. A safe haven, where members share what is going on in their lives and in their businesses. The Roundtable experience sharing is about addressing the CEO as a whole.
"Having my roundtable has been a blessing throughout the pandemic. The relationships I have built with roundtable #13 over the past few years have proven to be a solid rock during an otherwise unstable time," says Divine. "We have spent many hours sharing resources, giving feedback, and just having simple conversations. Having fellow CEOs on speed dial who are navigating similar challenges is something that dollars can not buy. It has been great to see what so many VACEOs Members have done for our community and I look forward to continuing to work together in the months to come."
True to his character, Divine is an active member, showing up at almost every event and even volunteering as chair of the Membership Committee. He's quick to encourage his fellow members to become active in the VACEOs community as well.  
"I encourage members to go to Council events. You won't regret it," he says. "The education is great and I feel like the more you invest in the community, the more the community will invest in you, and you will get more value from your membership. And I can speak firsthand because whenever I join organizations, I get in the weeds and try to help improve in any way I can and serve in any way I can. And it's always benefited me in a positive way. It's a good investment."
Ready to invest in yourself? Virginia Council of CEOs has developed a special no-cost membership in response to COVID-19. Visit VACEOs Community Membership page to learn more.
---
(VIDEO) COREY DIVINE EXPLAINS WHY HE JOINED VA COUNCIL OF CEOs
Posted by Staff at 7:23 am