VACEOs Members Top 2018 RVA 25 and Inc 5000 Fastest-Growing Business Lists

Our Members represent a wide range of industries and experiences, and they are frequently listed within the annual RVA 25 and Inc 5000 "fastest-growing" business lists.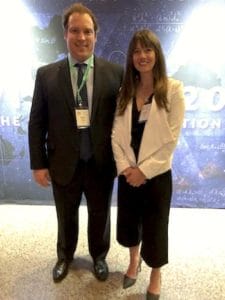 This year twenty-eight Richmond-area firms made the Inc. Magazine's 2018 "Fastest-Growing Companies" list. Of those, fourteen of the 28 (50%) are businesses led by Virginia Council of CEOs Members. Seven VACEOs Members topped the annual RVA 25 list in 2018 as well.
Not a Member? You should be! Our network includes an incredible network of business owners ready to help you navigate some of your toughest business challenges. Visit VACEOs membership to learn more.
Congratulations to all of our nominees!
(Pictured: COLAB President Eddie O'Leary with COO Morgan Witham at RVA 25 event.)
Name
Accolade
Rank
Growth*
Industry
Canal Capital Management
Inc 5000
4200
81%
Financial Services
CityParking Inc.

RVA25
19
44%

Business Services
COLAB Multimedia
Inc 5000
3707
99%
Advertising/Marketing
COLAB Multimedia

RVA25
25
37%

Advertising/Marketing
Dietitians On Demand
Inc 5000
4116
84%

Healthcare Services
Dominion Payroll
Inc 5000
3362
115%

Business Services
Morton
Inc 5000
4413
75%

IT Services
Networking Technologies
and Support
Inc 5000
4830
62%

IT Services
Occasionally Made

RVA25
9
122%
Wholesale and
Manufacturing
Old Dominion
Mechanical
Inc 5000
1066
462%

HVAC and
Plumbing
Productive AV
Inc 5000
1222
395%
Business Services
Productive AV
RVA25
11
109%
Business Services
SHOCKOE
Inc 5000
815
620%
IT Services
SOLVARIA
Inc 5000
4809
63%
IT Services
Swig
Inc 5000
1766
258%
Advertising/Marketing
Taradel
Inc 5000
2918
140%
Advertising/Marketing
Taradel

RVA25
24
37%
Advertising/Marketing
Timmons Group
Inc 5000
4644
68%
Engineering Services
UrbanCore Construction
Inc 5000
303
1626%
Construction
WebStrategies Inc.

RVA25
20
42%
Advertising/Marketing
*RVA 25: Average Annual Growth 2015-2017
*Inc 5000: 3-year growth rate
Posted by Staff at 12:57 pm