Gelati Celesti's Steve Rosser: Possibly the Happiest Man in the World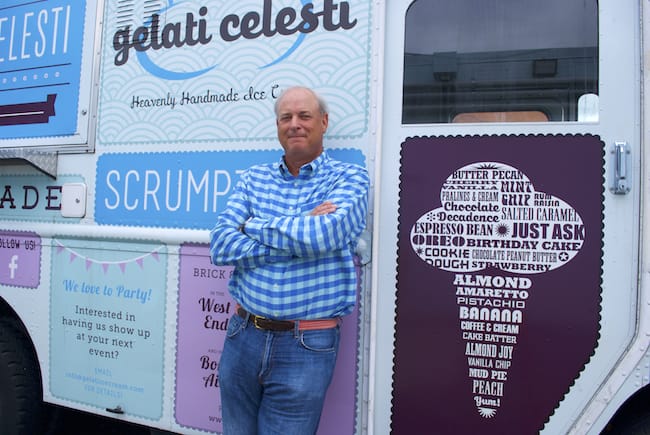 We believe Steve Rosser might just be the happiest man in the world. 
We met him earlier this month at his new 9,250-square-foot production facility at 1908 North Hamilton Street in Richmond, just five weeks after the facility started producing what is arguably one of the most addictive of products ever made: Gelati Celesti ice cream. 
We were worried Steve might not have time to chat in the middle of opening a new production facility during his busiest time of year, but, as usual, he was welcoming and all smiles. And why not? He's grown a small ice cream shop with a small production area out back and a staff of nine into a local ice cream shop icon – with four retail stores, a wholesale customer stream and 110 employees. 
Steve's product may be a soft sell, but don't underestimate this entrepreneur. He's an accomplished businessman with a point to prove. We spoke to him about managing growth and balancing work and life. We learned about what he considers the most important business decision he's made and more. Here's what this VACEOs member had to say. 
LIFE IS A LITTLE DIFFERENT NOW
Steve's background includes long stints in executive-level positions with Luck Stone Corporation and Reynolds Metals Company. In 2010, it was time for a change. He and his wife, Kim, purchased Gelati Celesti and never looked back. The brand quickly grew from one store on Broad Street in Henrico County to multiple locations across Richmond. In February of this year, a fourth retail location opened at 1400 North Boulevard in Scott's Addition. 
Gelati Celesti Growth Timeline
2010: Steve and Kim Rosser purchase Gelati Celesti shop in Golds Gym Plaza in the West End from Peter Edmonds, who co-founded the business with his father in 1984.
2011: The Rossers purchase a production facility on Dabney Road to increase ice cream making capacity
2012: The existing wholesale business was greatly expanded to include more Richmond area restaurants
2012: Second retail location opens in Bon Air
2013: Gelati Celesti Food Truck makes the scene
2014: Third retail location opens in Short Pump
2017: Fourth retail location opens in Scott's Addition
2018: New production facility on Hamilton Street opens to accommodate growth. Dabney Road production facility closes

 
In May 2018, Gelati Celesti opened a new production facility on Hamilton Street that's nearly quadruple the size of the former building on Dabney Road. It will serve all of the business' retail shops and wholesale accounts. "Now we have plenty of room, and the great news is, it should hold us about eight years," says Steve. "We've got a lot of growth ahead of us."  
"ONE OF THE MOST IMPORTANT THINGS I'VE DONE SINCE I BOUGHT THE COMPANY"
For Steve, managing his company's growth has been a matter of business alignment and defining the culture. "I was very fortunate because in a previous career before this, I was a general manager in a corporate business, so I had the opportunity to run a business," he explains. "What I think is essential is constant alignment. Everything has to align for what the ultimate objective is." 
Steve's alignment began with his first facility expansion, which satisfied the initial demand for his product. Then the right leadership was put in place to hire the right people. He sums it up this way: "Make sure you can make it, you can manage it, you can serve it, and you can lead it. And then you're ready to open stores."  
After the second Gelati Celesti store opened and his food truck service was in high demand, Steve quickly realized he couldn't be everywhere at once and his culture was in jeopardy. So he called in some help. He and his management team worked with John Sarvay at Floricane.
"We got our leaders together and talked about what we really wanted to be, and the profile of a person who would fit," Steve says. "We use that information when we talk with prospective employees. We're able to say, 'This is who we are. Does that mesh with your personality, your career objectives?' That's one of the most important things I've done since I bought the company: work on the culture.  One of the most important decisions we make here is, 'Who do we hire?'" 
SEVEN DAYS A WEEK, 363 DAYS A YEAR. WORK VS. LIFE: IS THERE BALANCE?
Gelati Celesti stores are open seven days a week, 363 days a year, and stay open until 10:00 or 11:00 p.m. at night. "I'm always on duty!" says Steve.  Still, he insists he does balance work and life beautifully – especially now that he has a great team in place to manage the day-to-day operations. 
"I have a great balance, but it's blended, and that's the difference," Steve explains. "Entrepreneurs plan their personal and work life.  During the first two or three years, my vacations were coming here, and I loved it! Now I do take more time away, because we've empowered leaders who know what to do. My job is management of the culture and future business development, so the day-to-day stuff takes care of itself. That's because we have a great team of people."
"I HAD CONFIDENCE IN MYSELF, BUT I NEEDED TO PROVE IT"
At 53 years of age, Steve came into entrepreneurship relatively late in life. His primary motivation? "I always had this need to know if I could do something on my own," he says. "I had confidence in myself, but I needed to prove it. I needed to prove that I could take this business and make it grow." 
And now he's totally committed to making it grow in the Virginia Beach market. He plans to open three stores there, as well as entering other markets in Virginia. He also hopes to add at least three more stores in Richmond. "That will take care of the next three or four more years. At that point, I'll be working on the next stage of my life." 
For now, he's clearly a happy man.  
"I read something in Richmond BizSense recently about a woman who just opened up a candy shop on Grove and Libbie," he says. "I absolutely understood it when she talked about how she used to be an attorney and she got so she didn't like to practice law any longer. She said, 'No one enjoys calling their lawyer, but everyone loves coming to the candy store.' Ice cream is a very similar situation. People come in and they're ready to smile – to have a few moments of joy. That's what we do." 
Posted by Staff at 3:38 pm