Finding a Means for a Greater Good: Meet New VACEOs Member Dr. Anthony Duncan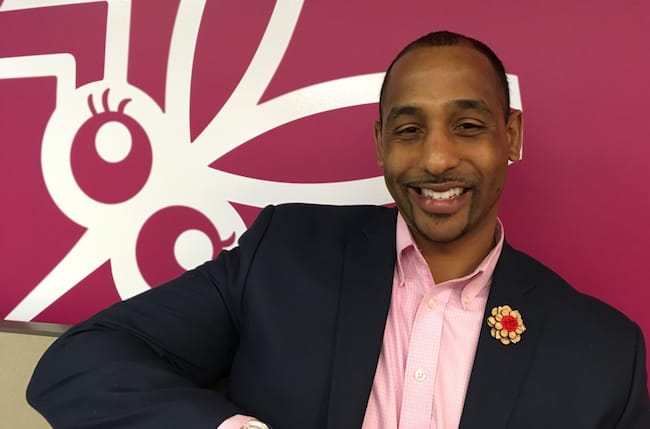 When Dr. Anthony Duncan isn't working hard on his new franchise business, he's actively seeking ways to help at-risk youth in the Richmond area. His desire to make a difference led him to an opportunity with the well-known Mosquito Authority franchise, but it was his faith that propelled him to greater action.
While attending a formal presentation about the franchise opportunity, Duncan had a revelation. "I decided that if I wanted to make a strong impact with little worry about finances, then this franchise opportunity would allow me to really do that," he explains.
Duncan purchased the Richmond Mosquito Authority territory in 2010, but subsequently found little time to work on the business. In 2011, he got a push from above that moved him forward.
"I was sitting at home wondering what I was doing. I went into deep prayer, asking God for direction. I heard God very clearly. I went later to bible study, and I told my pastor about it. He said, 'You know what to do.' I talked to my wife, then went to work and gave my two weeks' notice."
Since then, this entrepreneur, who admits he has "no business background whatsoever outside of running a private practice," has expanded his business into Maryland and New York – and hopes to eventually do business in Puerto Rico, a place that's particularly dear to his heart.
We sat down with him and asked about his background: "Why do you feel called to work with at-risk youth?" "Do you have to be crazy to want to be CEO?" And, "What do you dream about?" Here's what this Richmond entrepreneur and new member of the VACEOs had to say.
Q: Your background includes a deep appreciation for psychology as well as franchise ownership. First, why psychology? 
A: When I was an undergrad student, I met a professor who taught Intro to Psychology. His name was Dr. Adolph Brown III. Psychology really resonated with me – the attempt to understand behavior.  Dr. Brown became my mentor. He told me I must get my doctorate, and so I did!
Q: After you received your doctorate, you worked with youth at the Department of Juvenile Justice. What is it about working with young adults that calls to you?
A: I come from a single-parent family background. I was raised by my mom, and I have two brothers. She worked really, really hard. I found myself going to college and becoming able to navigate through life successfully, and I really wanted to give back and work with individuals like me who come from single-parent families. I was at the Department of Justice for about five years. I really enjoyed that experience.
I've moved on from the Justice Department, but I'm still really focused on reaching this segment. Last year, we developed a mentoring program for 10 young adults in our office. I'm pretty tough – helping them understand that if you want to play in the marketplace, you need to have high standards. There's no such thing as perfection, but you need to always strive for excellence and always want to get better.
Q: You're a trained clinical psychologist who's now a successful franchise owner. We have to ask: Do you have to be a little crazy or unbalanced to want to be an entrepreneur? 
A: Well, we don't use the word "crazy," as it's not a technical term! But if you think about the word "unbalanced" and being an entrepreneur, it's hard to stay balanced. Obviously, we want to mitigate as much risk as possible, but we do take on a lot of risk – because that's where the reward lies. Plus, there are only 24 hours in day. This whole idea of balance and being an entrepreneur is idealistic. The key, I've found, is to be cognizant and aware of the times I'm not engaged with my family.
Q: What are your business and personal goals? What do you dream about?
A: As I mentioned, I was raised by my mom, who is from Puerto Rico. I have this desire and obligation to make sure she is taken care of. That's what keeps me up and keeps me going. I really want her to enjoy the fruits of my labor because of all the sacrifices she's made for herself and her kids.
Q: Your mother is from Puerto Rico. Have you been there? 
A: Yes! I dream about maybe one day retiring there and having a small mango farm. I was able to go back most recently after Hurricane Maria; I was compelled to go there and do something. I had the opportunity to take the team to the U.S. Virgin Islands to do mosquito control pro-bono work out there for a week. Then we went to Puerto Rico. Unfortunately, the infrastructure was not in place to do more pro-bono work, but we connected with FEMA and distributed food and water to the elderly in the Fajardo region. That was really fulfilling."
Thanks for taking the time to meet with us, Anthony. And welcome to the Virginia Council of CEOs!
Posted by Staff at 4:19 pm