Becoming Something Bigger: David Gallagher's Story
It's easy to get lost in the focus on business, isn't it? The changing environment. Mergers. Acquisitions. Unprecedented revenue gains. Inevitable downturns. The addition of employees and business lines. New business ventures. It can become a constant pull.
But on January 25, 2018, I was pulled in the direction of a different narrative: one about a fellow CEO's emotional and physical transformation. From lack of fulfillment to purpose. From focus on self to focus on community. A transformation that would ultimately result in a life lived more genuinely and a business fueled more by inspiration.
The story I heard was that of David Gallagher, CEO of Dominion Payroll. In business for only 15 years, Dominion Payroll is a global nine-time Inc. 5000 honoree that employs approximately 150 people. The company's new headquarters is located in Richmond's trendy Scott's Addition.
But David's metamorphosis was triggered by an unspeakable tragedy. In his words: "I've been to hell and back, and I've come back saying, 'I'm not the man I was. I'm not. I'm bigger. I've been touched, and I've been inspired.'"
For David, everything has changed. Personally. Professionally. Physically.
Everything.
His focus is now clear. And he's free to be the man and the CEO he always wanted to be. He's no longer the formal entrepreneur I met back in 2003, when he became a VACEOs member. His demeanor is more spiritual. His hair much longer. He wears a wicked jacket with colorful skulls on it.
On January 25, he told the audience at the VACEOs Quarterly Luncheon, "I went through a very significant mental shift. I don't look at myself or behave the same way I did 10 years ago … I don't need to disguise anything. I believe my leadership style and the way I interact with people is infinitely more genuine because I'm thinking and acting more like who I am."
David's journey is about a successful business person who always longed for a greater purpose in life. It's also about the utter heartbreak following the death of his 16-year-old daughter Cameron from an undiagnosed heart condition in 2014. It was the convergence of these two forces that proved to be the catalyst for his personal and business transformations.
Inspired by their daughter's work to help adolescents battling depression, David and his wife, Grace, established the Cameron K. Gallagher Foundation.* Their passion soon became the passion of employees at Dominion Payroll, as well.
"I devoted all my heart and energy to the Cameron Foundation," David says. "My Dominion Payroll people said, 'We're with you!' And all of you guys [VACEOs members] said, 'We're with you! We'll change the world with you!' And we all joined forces and got to where we needed to be. Now everything in my business has changed."
David admits he had concerns about merging his two worlds – his cause and his business. But the voice of his employees was too loud not to hear: They wanted the cause to BE the business.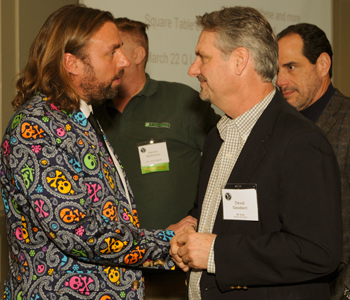 "A CALL FOR COMMUNITY ACTION"
Now Dominion Payroll's incredible growth is fueled by the culture inside the business – employees' belief in a common purpose and their knowledge that they are working for something much greater than themselves or the task at hand.
"In fact, my employees, I think, would tell you today that the reason they are with Dominion Payroll has nothing to do with payroll," David explains. "They would say, 'I'm there because I have a call for community action. I have a social justice that I have to bring to the world.' And if I'm great at my business, and if I inspire people there, then I can do more here. Then I can be great to the community."
Today, David has fulfilled the dream of his younger self. He's a part of something much larger than his own life and his own business. He is a self-proclaimed "community instigator," driven to build up communities. His perspective is much wider, and he has a greater spiritual presence.
His parting words to the VACEOs audience – articulated in such way that the emphasis was unmistakable – were: "Everything you do matters. Everything. You do. Matters. You go to Starbucks, you meet someone, you don't say hello to the person next to you, you get a little angry – that vibe goes everywhere. It goes everywhere. And you are, I am – WE are – the sum total of all of that."
I am proud to call Dave a friend, and to have him in the VACEOs community. While he is extraordinary in his own way, I find amazing stories like this in all 220 of our members. What a gift to be in relationship with this group of people.
– Scot McRoberts, Executive Director, Virginia Council of CEOs
*About the Cameron K. Gallagher Foundation
The Cameron K. Gallagher Foundation is a beacon of hope for those who are affected by teenage mental illness. We help empower teens and their families to proactively take care of their mental health and to seek help when they need it. Learn more: http://www.ckgfoundation.org.
Posted by Scot McRoberts at 2:01 pm