Meet Caryn Foster Durham: CEO of Charles Ryan Associates
Caryn Foster Durham firmly believes in making the world a better place. One look at her LinkedIn profile tells you this West Virginia native wants to make a mark on Virginia tourism and economic development, and that she's a strong advocate for women in business.
As the first in her family to graduate college, Durham's ultimate goal is to be a role model for her two girls. She wants them to understand that, "You don't have to play cards you're dealt; you can often ask for a new hand."
Twenty-one years ago, Durham began working at marketing firm Charles Ryan Associates (CRA). Management immediately took her under their wing, intentionally grooming her to take over the business when the time was right. She became a minority owner in 2007, and in 2015, she and business partner Susan Lavenski became sole owners. In 2016, three long-time employees – Matt Isner, Matt Fidler and Alisha Maddox – were added to the partnership team.
"Empowering Yourself"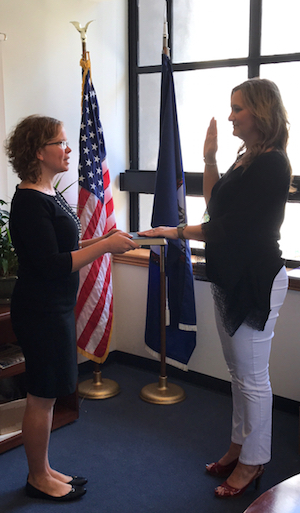 In July of this year, Durham was officially appointed by Secretary of the Commonwealth Kelly Thomasson to the Virginia Council on Women. "I own my business, employ 35 people and do business across many states, so I hope to bring some perspective about business and what's happening in the contiguous states," says Durham. "Also, I have access to resources that can help on a larger level through my and association with the National Association of Women Business Owners (NAWBO) as the past president of the Richmond chapter as well as my involvement with the Women Impacting Public Policy (WIPP) and U.S. Women's Chamber. And I'd love to help Virginia get back to the number one spot on the 'Best States to Do Business' list!"
The stated purpose of the Virginia Council on Women is "to identify ways in which women can reach their potential and make their full contribution to society and the Commonwealth." What are some of the barriers Durham feels are keeping women from reaching their potential? Her answer may surprise you.
"A few months ago, I was asked to keynote a women's entrepreneurship conference in Virginia Beach," says Durham. "The speech I chose talked about empowering yourself. We are, in my opinion, our own worst barriers to success. That's obviously a blanket statement, but, by and large, we hold ourselves back more than anyone else. We doubt ourselves and don't trust our intuition, for example. And we can be unkind to each other."
"If we're going to break that ceiling, we have to bring other women with us, and we need to include men in the conversation, because you can't change the trajectory of things if you only have one side of the equation," she continues. "We need to take responsibility for our own path."
Finding Like Minds in VACEOs
The path Durham chose led her to the Virginia Council of CEOs in 2013. "My roundtable is invaluable to me," she says. "One reason I wanted to join the Council was that I'd never been a CEO before. I knew how to make money and how to hire – I'd been doing that for years before I became the owner of a business – but I didn't know how to be a CEO. The best gift my roundtable gave to me was the realization that I do know what I'm doing, I'm doing things right, and the questions I have are the same questions that other CEOs have."
"My roundtable is invaluable to me" – Caryn Foster Durham, CEO, Charles Ryan Assoc.
The business owners in Durham's roundtable group represent organizations that are the same size as hers, but they all vary in lifecycle stage and industry. "That has been equally gratifying," she explains. "I truly feel like they have had a positive impact on my business and have helped me be a better person and CEO. I truly feel like I have helped them, as well."
Durham says she wants to bring similar peace of mind to other businesswomen and will work actively with the VACEOs team to develop events that will attract this underrepresented market. In fact, you'll find her co-hosting an event with VACEOs this fall!
Posted by Staff at 10:39 am