Social Media Expert Corey Perlman Shares Strategies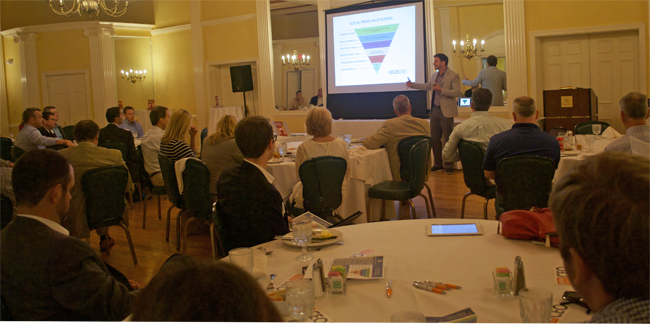 VACEOs members have a thirst for knowledge. They relish Council events that expose them to best-selling authors and wholeheartedly dive into conversations with national thought leaders. They hunger for ways to streamline their operations, engage their employees and market their businesses.
On May 25, members got a chance to hear from Corey Perlman – consultant, nationally recognized social media expert and author of Social Media Overload! His presentation – "Simple Social Media Strategies for Overwhelmed and Time-Deprived Businesses" – could not have been more relevant for his audience.
Perlman challenged us to prioritize our activity on social media platforms – to "buckle down where buyers are" and not be tempted by platforms that don't make sense for our business. He advised us to create a team or bring in an agency to help with social media instead of trying to do everything ourselves. He also introduced us to a social media sales funnel to guide us through ALL the reasons to participate in social media (it's NOT all about generating leads), and encouraged us to think outside the box when it comes to content and to be patient for results.
We won't share everything we learned, but here are five actionable items every CEO of a small or medium-sized business can use to their advantage.
FIVE SOCIAL MEDIA ACTION ITEMS FOR EVERY CEO
1. TAKE INVENTORY
Google your business and yourself. What platforms are you on? Don't forget to check out reviewer sites and personal/company/employee LinkedIn accounts. How's your brand looking?
2. PRIORITIZE YOUR PLATFORMS
Do you really need to be on Twitter? Maybe not. Not sure where which platforms you should be on? Google the demographics of each and ask your customers. Double down on a few instead of spreading yourself too thin.
3. UPDATE
When was the last time you updated your website? Was it more than three years ago? If so, it's time to update to current standards. And while you're at it, update all of your LinkedIn accounts since the design has changed.
4. POST
Post.
Every day. 
To LinkedIn.
Post only content that has value.
5. GO LIVE
Challenge your social media team to get on the Facebook Live bandwagon. "You'll see more activity and engagement on a Live video than you will on any other post you do on Facebook, so I encourage your watchers here to think about how they can go live," said Perlman.
6. (BONUS) GET PERLMAN'S NEW BOOK, SOCIAL MEDIA OVERLOAD!

Corey Perlman's latest book is a quick and easy read, packed with actionable items that will give you a firm grasp of the strategies that will work best for your business.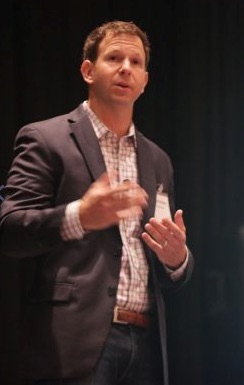 About Corey Perlman
Corey Perlman is an entrepreneur, author and nationally recognized digital marketing expert. He is also the owner of eBoot Camp, Inc. – a team of highly skilled digital marketing specialists who manage social media accounts for more than 40 companies. His latest book, Social Media Overload!, is an Amazon.com bestseller in every major business category. Learn more about Corey Perlman.
Posted by Staff at 4:20 pm