2017 VACEOs Retreat: Here's Our To-Do List
Annnnd that's a wrap! Another great VACEOs Retreat is under our belts. We took a pause from work, enjoyed ourselves, connected and learned. Our tranquil setting this year – the luxurious Homestead Resort in Hot Springs – gently eased us into two days of self-reflection and study as each speaker, in their own way, invited us to take a look inward and then take action.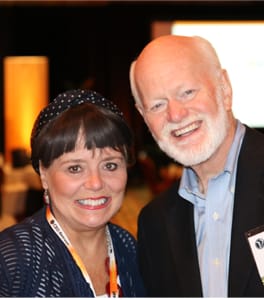 Our opening speaker, Marshall Goldsmith, asked us to take a hard look at ourselves and our behavior. He shared great leadership coaching tactics and concluded his lecture with this personal coaching advice:
1. Be happy now.
2. Life is short, so have fun now!
3. Help people.
4. Have a dream and go for it!
Joel Salatin challenged us to aspire to NOBLE goals – not those of the traditional business sort. We won't soon forget his lesson on "10 Ethics-Based, Contrarian Business Ideas," focusing on a world in which sales targets and trademarks don't exist, the local ecology is honored, and the phenotypical uniqueness of life – including seasons, cycles, ebbs and flows – is respected.
And like Goldsmith, Salatin reminded us to enjoy NOW: "The times of our lives will always trump the paychecks of our lives."
Related article: Sights and Sounds from VACEOs Annual Retreat (Video) >
We were in awe of – and inspired by – the life of Vernice "FlyGirl" Armour. The Marine combat pilot and inspirational speaker reminded us that our actions affect many. She challenged us to make gutsy moves, to ENGAGE with our employees and partners, and to "squeeze the juice out of life."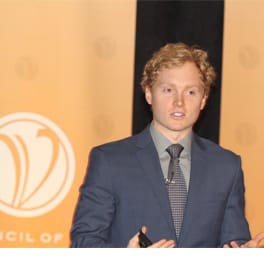 And while our last speaker, Connor Lokar, Economist at ITR Economics, spoke about business indicators and wage and consumer growth indexes, his ultimate message was relatively simple: To thrive during what he expects to be a year of growth and acceleration, the first step is to look inward; more specifically, to understand what business cycle you're in and where you're going. Essentially, "Carpe diem!" Seize the day and act accordingly, because a potentially injurious economic tidal wave is a'comin'.
Here's our checklist from the Retreat. What's on yours?

VACEOs Post-Retreat Checklist
3 Things To Do:
Determine what business cycle I'm in and how to react to important market indicators.
Determine one thing I can do to make a positive difference for myself and the world, and then tell someone to make me accountable.
Make a gutsy move to live an amazing, adventurous, epic, juicy life!
Posted by Staff at 9:19 am