VACEOs Profile: Arlene Lee, R.E. Lee Companies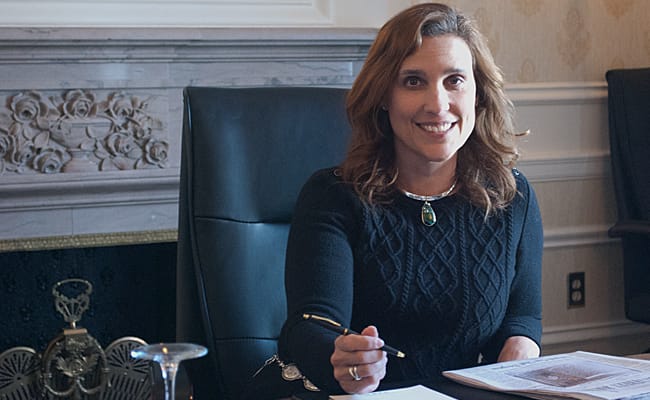 Half-joking, Arlene Lee, CEO of R.E. Lee Companies says, "I have a scientific mind and an artist's soul!" But, it's really true. The Cornell University graduate, author and entrepreneur, helms one of the oldest construction companies in Central Virginia, and she relishes in the discovery it brings – even within complex spreadsheets. "I love the flow of lines," she says. "And to me, the flow of information has a beauty to it. Ideas and strategy are beautiful, too."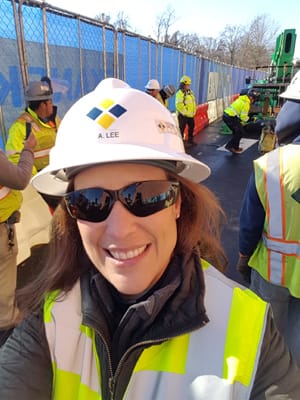 Arlene spends most of her time focused on strategic and long-term planning for her Charlottesville-based, family-owned business, but she also she finds great satisfaction in the history R.E. Lee has helped shape. "It's so cool to think about all of the buildings around Charlottesville and the state that we've built in the last 78 years," she says. "Some of them we see every day. It's really great to be linked to the community in that way."
What motivates this busy CEO? "I've been entrepreneur for many, many years in a number of different businesses," she explains. "But the best part of my job is working with the people in the company. We have people who just pour their hearts into this company and the work they do. Some are multi-generational employees. They inspire me to want to work harder with the work they're producing with their hands."
ABOUT R.E. LEE COMPANIES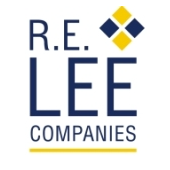 R.E. Lee is a born-and-bred Charlottesville business that began in 1939 as R.E. Lee & Son, a construction firm dedicated to building and restoring fine and historic homes. In the 1950s, the company transitioned to commercial work, and in the 1990s, it spun off into several divisions. The company adheres to a parent-subsidiary structure today.
Arlene became an official part of the R.E. Lee family in 1991, after meeting fourth-generation family member Chris Lee at Cornell University and marrying him in April of that year.
The couple worked diligently to preserve the traditions set forth by the pioneering, honorable professionals before them. Arlene was a member of the board of directors for many years and became acting CEO of R.E. Lee Companies in 2016, two weeks after Chris' sudden death in December 2015.
Today, she is CEO/Principal of parent company R.E. Lee Companies and Principal/Treasurer of its five subsidiaries: R.E. Lee & Sons, Inc., Piedmont Development Group, Piedmont Concrete Contractors, Piedmont Plaster & Drywall and Piedmont Facilities Management.
R.E. Lee's parent-subsidiary structure means the businesses it contains can cover the entire lifecycle of the building process. And it provides other advantages that prove valuable in the volatile construction industry. "The fact that we have a subsidiary structure and we're in a smaller market means we have more than one chance at a project," Arlene explains. "If our contractor doesn't get a job, one of the subsidiaries often does. That helps us weather rough patches a little better."
"We're also able to do things collectively that any one of these companies would be too small to do on their own in terms of how we do business and how we function internally, the benefits we're able to offer employees – those kinds of things," she adds.
R.E. Lee Companies employs approximately 130 people and works on projects throughout most of the state. Arlene has a real passion for work safety, and hopes to eventually be known as an industry leader in the area.
A Virginia Council of CEOs Forum member, she finds tremendous value in the confidential nature of her group's discussions, which has inspired her to actively recruit other CEOs from Charlottesville to join the organization.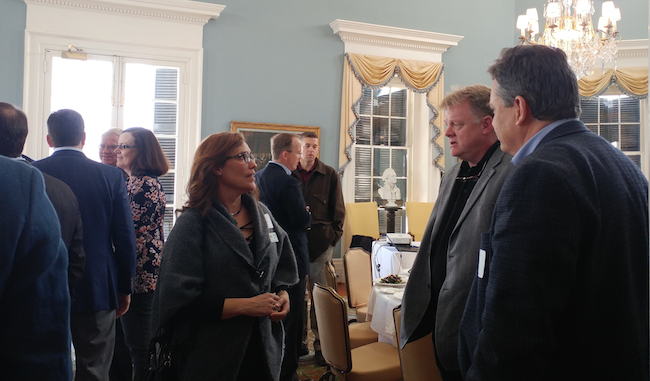 When she isn't planning for the long-term success of her business, joining her safety manager on site visits or speaking to Charlottesville CEOs about the Council, Arlene can be found at her stable with her 33-year-old Morgan horse, Pandora, who shares her birthday. "I have three horses, but my old gal will be 33 on our birthday in April," says Lee. "I dried her off when she was born, and she's been with me ever since."
VACEOs' recent partnership with the Virginia Chamber of Commerce has led to the formation of new CEO Roundtable groups in Charlottesville – with more planned across the state – which means more business leaders like Arlene Lee are joining the ranks and seeing the benefits of membership. Find out more about the partnership here.
ARLENE LEE ON VACEOs…
"I think my forum has helped me gain confidence in my leadership ability and style. It's helpful to have feedback and listen to the experiences of the other CEOs, and I really value their insight and expertise. When you're running a company, you don't always have someone you can say anything to and that stays confidential. There's tremendous value in that." – Arlene Lee, CEO, R.E. Lee Companies
Posted by Staff at 1:52 pm