2017 VACEOs Retreat Registration and FAQs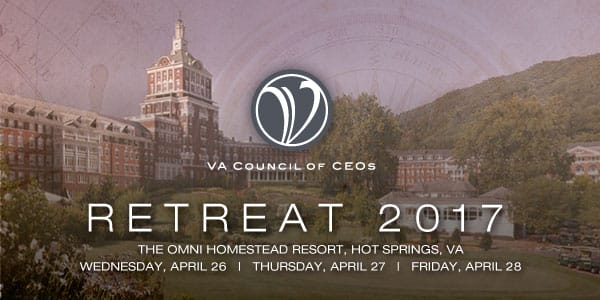 Excitement is running high, as this year the event is held at the historic Omni Homestead Resort in Hot Springs, Virginia.
2017 VACEOs RETREAT FAQs
Q: What do I register for? The Registration page has a lot of stuff on it!
A: Start with CEO Retreat Registration. That is your main ticket to the Retreat, covering meals and program from Thursday morning to Friday mid-day. Then, consider coming in on Wednesday – most participants do – for the Opening Reception. And, to maximize your time making connections, you can choose one of the group activities on Wednesday – Golf, Ziplining, or the Cascade Gorge Hike. Or enjoy the many resort activities available to you.
Q: Do I need to book a room?
A: Yes. As soon as possible! We have a block of rooms reserved through April 5. Use the special group link found in your confirmation to make your reservation
Q: Should I bring my spouse or significant other?
A: The Retreat program is designed just for members and sponsors. We recommend that you immerse yourself. After all, this is a "retreat!" We will have guest tickets for our two evening social events. Some folks have their spouse join them on Friday afternoon for an extra night or two of R&R. We have a reception Friday night just for the "lingerers."
Q: Is there a dress code?
A: Not really. Let's call it business casual or resort casual. Relax and be comfortable. There may be stricter dress codes in the Homestead dining room.
Still have a question? Please contact Connie.
Posted by Staff at 2:26 pm