Find the Right Connection and Watch the Trajectory of Your Business Change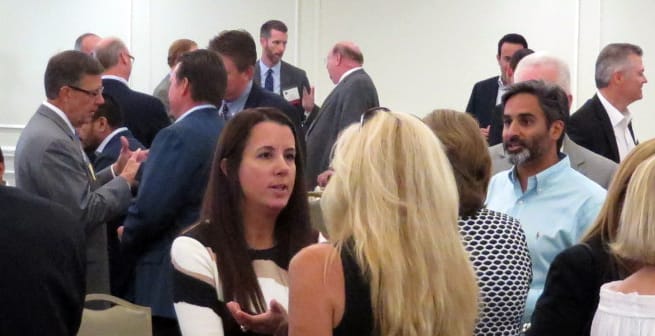 Sometimes it takes just one connection to change the trajectory of your business (and your life). For Brandon Bruce, VACEOs member since 2012, it was a conversation that took place some time ago with a Council sponsor that eventually enabled him to break away from his current venture and focus on his new startup, Food Not Flowers.
"The Virginia Council of CEOs does a phenomenal job of connecting people on real levels," explains Bruce. "It's not forced networking – it's real-life situations that we're sharing. Everyone is there to help each other. It's absolutely a great place to make a connection."
"A couple of years ago, I mentioned to Patrick Morin of Transact Capital that at some point, when the time was right, I would be interested in selling my catering business, Groovin' Gourmet," recalls Bruce. "Patrick is a sponsor of the Council, so we regularly saw each other, and it was easy to stay in touch."
Long story short, Morin introduced Bruce to Scott Halloran, CEO of Trolley House Refreshments. Halloran was also a Council member – and was very interested in acquiring Bruce's catering company.
"Patrick connected us, even facilitating the first meeting to help us understand if the fit was right," says Bruce. "Six months after our initial meeting, the deal was done."
Halloran agrees that the Council is a great place to make connections with like-minded CEOs. He's been a member since 2006 and has come to depend on the expertise of his connections when making difficult business decisions.
"I'm very collaborative in nature, so I find it to be a powerful organization to belong to," explains Halloran. "The Council allows me to leverage not only my relationships in my Roundtable, but also with sponsors and the organization as a whole. I would say that I've relied on these relationships and the expertise of the members to get me through many of the really big business decisions I've had to make."
Today, both Bruce and Halloran are moving their businesses forward. Bruce plans to take Food Not Flowers national soon, and Halloran reports that his new acquisition and catering business are doing well. "Hectic, but good," he reports.
As a VACEOs member, you're part of a group of like-minded CEOs who are ready to share their experiences – but that's not all. Find out what other members have to say about their experience with VACEOs, and learn more about additional benefits of VACEOs membership.
Posted by Staff at 1:30 pm