CO+LAB Adds a Fresh and Modern Touch to VACEOs.org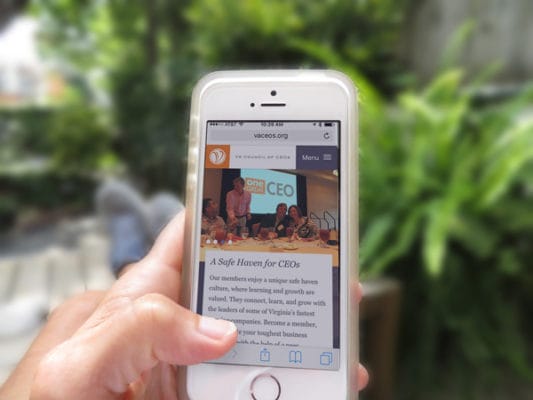 Membership in the Virginia Council of CEOs certainly has its privileges. And if you're executive director Scot McRoberts, that goes for you too. "When we knew it was time to focus our attention on getting vaceos.org updated, I was thrilled to hear that VACEOs member Eddie O'Leary and his incredible team at CO+LAB were up for the challenge."
"After only a few short meetings, vaceos.org has been transformed into a fresh, modern website that is customized to fit our needs," adds McRoberts. "The transition from old to new could not have been easier, and I could not be more pleased."
About his team's effort, Eddie O'Leary, CO+LAB's president says, "It's important that the website properly reflects the Council's vibrant and forward thinking membership. The CO+LAB team did a design refresh which took the existing, recognized brand and created a more modern design."
But, explains O'Leary, the site is more than just a pretty face.
"The new VACEOs website is fully functional on mobile as well as desktop devices, making it easy for members and prospects to access the website regardless of the device they are using. This is especially important to busy CEOs," He adds, "In addition to making the design responsive, we have given the VACEOs team the ability to keep the site updated without requiring any coding, which was an important component of the project."
The site's content is now fully driven by a customized version of WordPress, ensuring more original and fresh content is on its way.
Says McRoberts, "It's an exciting time of growth at Virginia Council of CEOs. Our membership and our brand have never been stronger!"
Posted by Staff at 11:26 am