Limited Access Event Brings CEOs Together Over Amazing Eats
VACEOs RVA FOOD TOUR
(Video by TachLock.com)
There's nothing like discovering hidden treasures in a neighborhood you thought you knew – or savoring a certain delicacy you've never had – to get the conversation flowing. And that's exactly what happened during the VACEOs Richmond Real Food Tour – part of the Council's Limited Access series of events.
"Limited Access events are specifically designed to introduce the membership to a fun and unique experience," says Scot McRoberts, Executive Director, VACEOs. "These events are intentionally designed to accommodate only a few people, which offers the participants a real VIP experience while giving them a chance to get know each other in a relaxed atmosphere."
Limited Access event attendees have discovered what it takes to manage a minor league baseball team, be a local beer brewer, and compete on a curling rink. Uncovering local culinary gems in Richmond's Monroe and Jackson wards was on the agenda for this most recent event.
Hosted by Maureen Egan, writer, "RHome" columnist and co-owner of Real Richmond Food Tours, the tour began at Maple & Pine inside the trendy new Quirk Hotel. Other stops included Mama J's, Pop's Market on Grace, Greenleaf's Pool Room, Chez Foushee and Rapp Session (Rappahannock River Oysters).
The group sampled a wide variety of dishes, including swordfish, catfish, collard greens, quail bruschetta, oysters, and amazing treats like the infamous Fat Elvis Ice Cream Sandwich from Greenleaf's and Chez Foushee's lemon butter cake, to name a few.
Along the way, VACEOs members learned about the historic neighborhoods, discovered hidden murals decorating forgotten alleyways, got a lesson on how to hit a cue ball just right, and, most importantly, got a chance to find out more about each other and share business experiences.
"What a great tour!" said Connie Hom, President, Buckingham Greenery Interior Landscapes. "I especially liked visiting Rapp Session – the spread of seafood there was great, and I really liked the smoked bluefish. I also really enjoyed the cake from Chez Foushee and the pool hall's signature ice cream sandwich. So yummy."
"The Council always puts together really interesting and engaging events," continues Hom. "It's one of the many reasons why I love being a member. I met some new people, and I was able to connect with members who aren't in my Roundtable."
"This was my first Limited Access event, and I really enjoyed it," said new VACEOs member and President of TK Promotions Todd Mawyer. "The restaurants were all new to me, so it was really great to get a feel for so many new places. Also, I really liked the size of the event, which gave me a unique opportunity to get to know a few of the VACEOs members I've never met before. Looking forward to the next event!"
Get to know your fellow VACEOs members and ease into a conversation that could change your business. Visit the VACEOS Events page and register for an upcoming event today!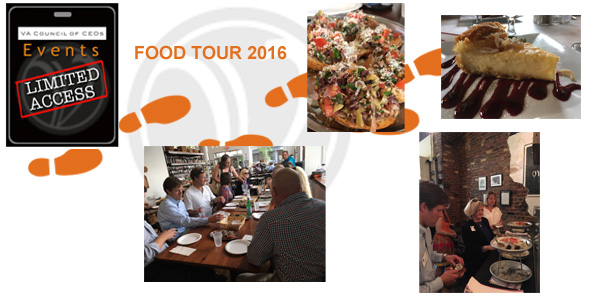 Posted by Staff at 2:42 pm