Alan Kirshner and Top Markel Executives Address VACEOs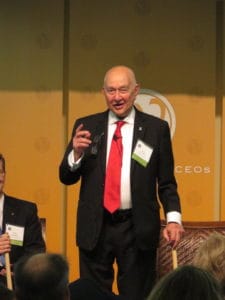 Put a well-known, highly-respected business mogul in front of a room of 100-plus enterprising CEOs, have a frank discussion about how to build and reinvent an 85-year-old, multibillion-dollar business, and what do you get? The most highly rated VACEOs Quarterly Luncheon ever.
Taking the stage during a panel discussion at the VACEOs September Quarterly Luncheon were three of Markel Corporation's highest-ranking executives: Michael Heaton, Senior Director of Affiliate Investments, Markel Ventures; Richard R. Whitt III, President and Co-Chief Operating Officer, Markel Corporation; and the undisputed rock star of the company, Alan Kirshner, Chairman and CEO.
Markel defines itself as a holding company for insurance, reinsurance and investment operations around the world. It's a company rooted in its distinct culture, defined as the "Markel Style" – a company that, after 85 years, still has ambitious goals, Kirshner told the audience. In a playful tone, he added, "We're having a lot of fun."
Listed here are a few golden nuggets from this luncheon. But first: When was the last time you learned something that could profoundly impact your business? Come join us. We'd love to have you take part in the conversation.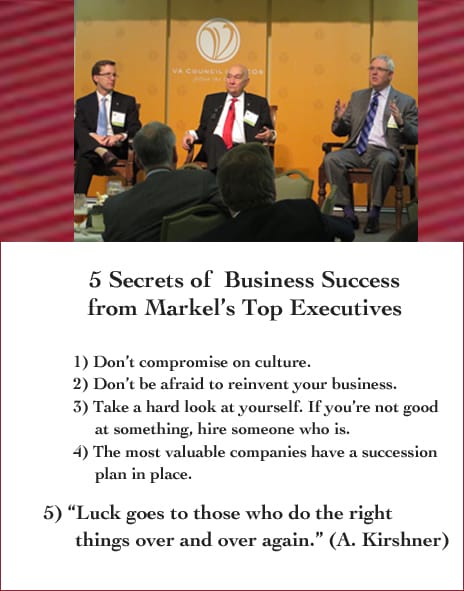 Posted by Scot McRoberts at 3:39 pm