Q&A With VACEOs Chairman David Ingram, of Capital TechSearch
Be innovative and hard working.
Be creative.
Love to learn.
In a sense, be David Ingram.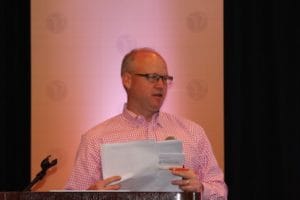 Ingram is an entrepreneur, author, speaker, community leader and family man. And in many ways, he exemplifies a typical VACEOs member.
More specifically, he's the author of 15 Bedtime Stories that Keep Entrepreneurs Awake at Night (which maintained a spot on the Amazon Top 100 Business Books list for a respectable stretch) and a long-time member of the Council (since 2006).
Backed by his invaluable business partners Kati Elder-Burak and Barthe van Doorn, Ingram reports that Capital TechSearch, repeatedly shatters industry standards for excellence in the IT search and placement industry, converting 86 percent of its placements to full-time positions – all while upping its overall placement count by more than 30 percent each year. The firm has made the Inc. 5000 Fastest-Growing Companies list three times.
We sat down with Ingram recently to find out what's changed since his book was published, why he volunteered to be the Council Chairman, and – after all this time – what, if any, new nightmares keep him awake. Here's what he had to say.
Q: You wrote 15 Bedtime Stories that Keep Entrepreneurs Awake at Night back in 2009. The book documents the lessons you learned while managing your startup through tough economic times to Inc. 5000 status. How has your business changed since your book was published? 
A: For one, the IT placement market has completely changed. Kati, Barthe and I began to see new relationships placed between our clients and ourselves. Ultimately, in many cases, we felt like this began to commoditize the candidate, and that changed our fundamental relationship between how we placed people and how we worked with our clients. We realized that approach is not for us. We are a relationship firm. Companies hire us when they want to build an IT team – generally for the long term. We don't supply the transient workers.
We recruit individuals who have the skills our clients are looking for and who have experience using the tools and skills that are relevant to be successful. We also try to make sure the recruit is in the right time and place in their career to take on a new role when they land. That differentiates us from providing a service that searches a résumé for word the word "Java," for example. And that's why people keep coming back to us.
Q: In the beginning of the book, you describe yourself as "as starter, not a maintainer." You say you like to, "…swoop in, fix, reorient, and then swoop back out." Would you still describe yourself that way today? 

A: I absolutely do still feel like a starter. I'm just in the same business! The market is different, and my role within the company is different as we've adjusted to our clients' needs. It's an exciting time for me now, and I'm enjoying the new challenges.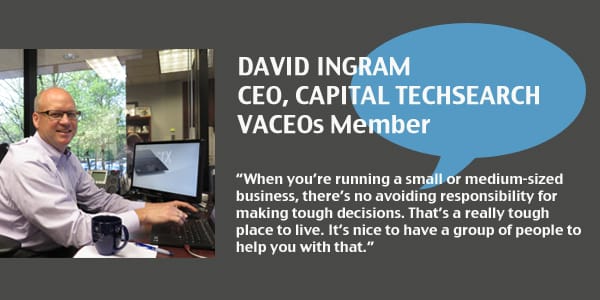 Q: You mentioned repeatedly in your book how much you've learned from your business advisors and confidants. How has the VACEOs helped you become the successful business owner you are today?
A: There is no way to place a number on the value I've received from my membership in the VACEOs. I can't count that high. What I find valuable is the unexpected help I've received for me as the person, not the CEO. In my mind, that is what the Council is about. We all have the same cash flow issues, the same HR issues – but who's there to help us with the heart-wrenching decisions we have about where we're going to cut costs and how we're going to expand? When you're running a small or medium-sized business, there's no avoiding responsibility for making tough decisions. That's a really tough place to live. It's nice to have a group of people to help you with that.
Q: You've been a member of the Council since 2006 and have served as Membership Chair, Retreat Chair, Board member, Vice Chairman and now Chairman. Why so active in the VACEOs community?
A: I view the Council as a really important piece of the Richmond business ecosystem. If, by connection, I can make it better today than it was before I started, then I'm making the Richmond community better. I really view the work as me helping to make other local business leaders successful.
Q: You're a popular speaker, a successful entrepreneur and a devoted family man. What's next? Is there a second book on the way?
A: How to be ready financially in the next three years when my twin boys start college is heavy on my mind these days! But, seriously, I feel like I've spent the past 10 years raising kids, and I'm in a different mode now – a business growth and expansion/"set new goals" time in my life. We're expanding as a company, we're getting recognized for the quality of services we provide, and I definitely believe we're going to be the last man standing in our line of work because we solve the hard problems and stay in the game even when things are complicated. Great things are on the horizon for us in the next 24 months.
Q: Last question. What, if any, "nightmares" keep you up these days? 
A: What keeps me up at night are things that are primarily out of my control – like, for example, when health care laws change. That has a dramatic effect on our profitability.
What's most important to me is taking care of my family and making sure I enable my employees to be all they can be – enabling them to make their personal and professional goals. As long as I'm doing that, I'll have a good night's rest.
Posted by Scot McRoberts at 1:13 pm