Virginia CEOs Report Economic Outlook in 2014 4th Quarter Survey
Robins School of Business – Virginia Council of CEOs survey once again finds strong optimism among chief executives in central Virginia.
---
Each quarter the Virginia Council of CEOs (VACEOs) and University of Richmond's Robins School of Business partner to take the pulse of top executives in the region.
The survey results provided by Richard Coughlan, Senior Associate Dean at the Robins School of Business, provide a snap shot of the overall economic outlook index for various companies within the region and help central Virginia companies anticipate business decisions and plan for growth.

Among the 62 CEOs of small and mid-sized companies participating in the survey this quarter, more than three-fourths expect their revenues to grow over the next six months, with 30.6% of respondents expecting revenues to climb by 11% or more. For the second straight quarter, more than half of respondents indicated that they expect their US employment to grow over the next six months.
Says Scot McRoberts, executive director of the Virginia Council of CEOs, "All signs are pointing toward a strong 2015 for small business in Virginia, and it is good news that talent acquisition is becoming less of a challenge."
VACEOs Survey Quantifies Talent and Revenue Gaps
For the third consecutive quarter, respondents were asked whether finding, hiring and retaining talent was a significant issue and 66.1% of CEOs indicated it was a concern, a decrease from 78% of respondents last quarter. According to the executives surveyed, the most difficult positions to fill are in operations, mentioned by 40 percent of respondents, and sales, mentioned by 35 percent of respondents. When asked how much their annual revenues might increase if their talent concerns were resolved, more than three in four CEOs (75.6 percent) indicated they would experience growth of 11 percent or more.
Survey Results
The following survey results from the third and fourth quarters of 2014 show projections for the next six months for sales, spending and employment: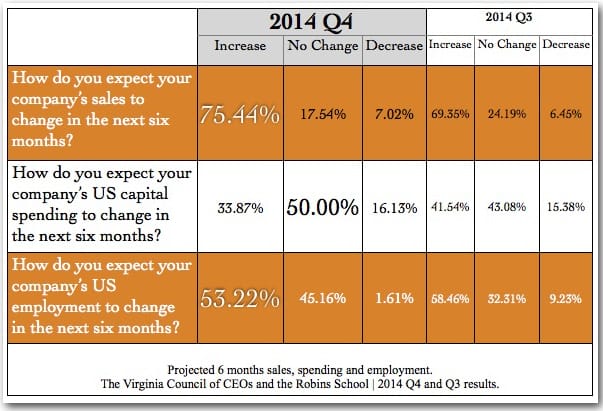 Economic Outlook Index
The results also provide an overall economic outlook index, which is based on businesses' projected six-month sales, spending and employment figures.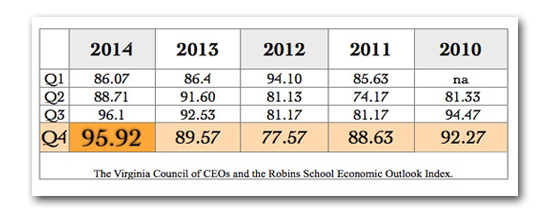 About the 2014, Fourth Quarter Robins School of Business / VACEOs Economic Survey
The Virginia Council of CEOs and the Robins School jointly conduct the quarterly survey, which helps central Virginia companies anticipate business decisions and plan for growth. The Robins School adapted the survey from the Business Roundtable, an association of CEOs of American companies that conducts a similar survey nationally. Richard Coughlan, senior associate dean at the Robins School, administers the survey and collects the responses each quarter.
The Council and the Robins School collected responses from 62 CEOs in central Virginia. The median annual company revenue year-to-date for CEOs responding was $4.5 million. Multiple industries are represented in the sample (for example, construction, manufacturing, finance and insurance, and retail). The median number of full-time employees for responding companies in this survey was 25.
Request Results
The council continues to expand the survey beyond its members, offering any area business owners whose companies gross at least $1 million in annual revenue the opportunity to participate. If enough businesses participate, the council will provide survey results by industry. Participation is free, and all participants will receive copies of the survey data.
Business owners and CEOs who would like to participate in the next survey should contact Scot McRoberts at smcroberts@vaceos.org.
About the Virginia Council of CEOs
The Virginia Council of CEOs is a nonprofit organization, whose mission is to connect the CEOs of second-stage companies so they can learn from each other and grow their businesses. Learn more at www.vaceos.org.
About the Robins School of Business
The Robins School of Business is the only fully accredited, top-ranked undergraduate business school that also is part of a top-ranked liberal arts university. Bloomberg Businessweek ranks both the Robins School's undergraduate and part-time MBA programs among the top 25 in the country in their respective categories. The school's executive education division offers open enrollment courses and customized leadership development programs for individuals and businesses.
# # #
Posted by Scot McRoberts at 8:29 pm