"All In" With Keynote Speaker Chester Elton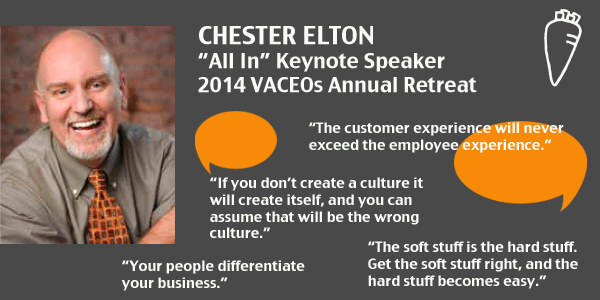 Wow! Can I hear an "Amen!"? I say, "Ah, yeah!"
Among professional speakers, Chester Elton could be considered a rock star. His corporate culture presentation at the Retreat this year, complete with sound bites, video clips and deeply personal stories, made us literally shout "Amen!", laugh out loud, clamor for carrots, and, yes, shed a joyful tear or two.
Fitting. Didn't the experience embody the exact culture we want for our businesses? A rockin' roller coaster of a good time, where the congregation members are all on the same page and you are the Apostle of Appreciation?
Remember this quote from his presentation? "My role is to get my team members to fall in love with our company and their jobs, just like I have." (Manager, Coffee Bean Company store)
To get there, you — the CEO — need to get everyone in the wheelbarrow. Your employees need to believe. And you need to be ALL IN.
How do you make that happen? Lucky for us, Chester has developed a road map: seven simple steps powered by the relatively simple acts of engaging, enabling and energizing employees.
He reminded us to focus on the customer and root for each other. He reminded us that the smallest amount of negativity is strong enough to crush the strongest of culture. And we saw how one hand-written note changed a life.
Chester Elton's advice? Reward behaviors. Do it often and be specific.
Remember, your employees are watching, so work to inspire people. Be ALL IN and bring it home.
(This video has one last takeaway. VACEOs members enjoy outstanding speakers and events all year long. Are you a member? Learn why you should join the Virginia Council of CEOs.)
About Chester Elton
Called the "Apostle of Appreciation" by The Globe and Mail, Canada's largest newspaper, and "creative and refreshing" by The New York Times, Chester Elton is co-author of several successful leadership books. All In, The Carrot Principle and The Orange Revolution are all New York Times and Wall Street Journal bestsellers. His work has been called a "must-read for modern managers" by former CNN television host Larry King.
Chester has inspired audiences from Seattle to Singapore, Denver to Dubai, and Toronto to Istanbul. He was the highest-rated speaker at a recent national Society for Human Resource Management annual conference (Bill Cosby was the second-highest-rated speaker).
Posted by Scot McRoberts at 5:14 pm