Preparing for the Healthcare Hurricane
"Will the Affordable Care Act change the way you operate your business?" Over 53% of the Central Virginia CEOs in our most recent CEO survey agreed it would. But we wonder, exactly how will it change? Will it be simply a matter of renegotiating your insurance coverage? Or, will the dramatic costs associated with the federally subsidized program force you to create an entirely NEW way to operate your business — one where part time and low wage employees are shifted away from your direct control?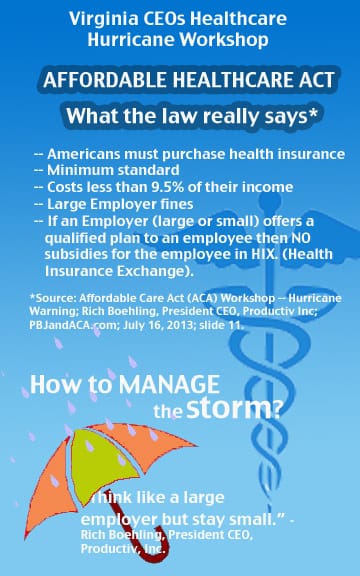 The new law, which will require companies with 50 or more workers to provide affordable coverage to their full-time employees or risk tax penalties, has been delayed to 2015. Still, a more immediate deadline looms: October 1, 2013, when the Healthcare Exchange (HIX) opens its enrollment period for 2014.
The fact is, the number of low wage employees on your payroll who participate in the HIX could significantly impact your organization's profitability, no matter the size of your business.
To best understand how this enrollment process and how the ACA law would impact Virginia businesses, we brought in D.C. – insider Rich Boehling. Rich is president of Productiv, Inc. When not leading his business of over 350 employees, he is acting as a "business barometer" with a direct line to the Treasury and Department of Labor. Joining him, his associate Rush Paul, a "recovering lawyer" with over 30 years HR leadership experience.
Together they educated the 25+ CEOs in the workshop about the law and presented a case for a strategy that COULD create a seismic shift in how some organizations operate. It was in depth and intense. Concepts like "wage bands", "safe harbors", and "L2 employees" were introduced; one couldn't help but feel a slight panic in the room.
VACEOs Speak Out…
"This Workshop was especially interesting to me as the Affordable Care Act will affect the way my business operates. The most important point I took away from the discussion was that the way many mid to large size businesses hire and manage employees will be significantly different in the future. In order to remain profitable, many CEOs will be forced to change their employment practices in ways that will not be in the best interest of either customers or employees." – Tom W., ServiceMasters Services, Inc.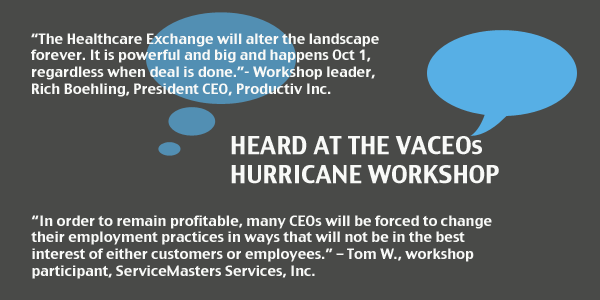 Preparing for the Healthcare Hurricane: Think Big. Act Small.  
Rich presented data from a fictitious, mid-sized company called PBandJ to demonstrate how the Affordable Healthcare Act will impact a CEO's profit margins; he used relatable employee, sales, and revenue data and presented a significantly different employment strategy to bring targeted workers into a safe harbor zone.
In the end, using a B to B subcontracting model for employee and process management was the ONLY solution that brought the fictitious company a profit. The other options, downright gloomy.
Miss the event? We encourage you to visit PBJandACA.com to download the presentation. The VACEOs  recommendation? Plan NOW for October 1 and beyond. Take an employee inventory, meet with your executive team, and find a strategy that works best for you.
Posted by Scot McRoberts at 3:53 pm