CEO Profile: John Carrico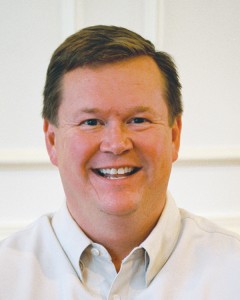 Twelve-year-old John Carrico started washing dishes in his father's family restaurant in Martinsville, Virginia.  This is where he learned the value of hard work and the importance of working with others to achieve a common goal.  After graduating from UVA with a B.S. in Commerce, and later an MBA from the Darden School with an emphasis in marketing, he worked as a CPA and an audit supervisor for Coopers & Lybrand, and then for Signet Bank where he had achieved the title Vice-President of Installment Lending by 1997—the year he was recruited by Jim Ukrop.
Ukrop's Dress Express was spun off from Ukrop's Supermarket in 1998 to focus on designing, manufacturing, and marketing uniforms to supermarkets and other businesses. Among its clients today Ukrop's Dress Express counts more than 50 food store chains—and more Top 75 supermarkets than any other uniform vendor—in addition to other major corporations, with over 1,000 uniform apparel and promotional product accounts across the country.
John is married to his high school sweetheart, Sheri, and they have two sports-minded teenage sons, Tyler and Drew. Tyler recently signed a scholarship offer to play baseball for UVA next year.  John is an active spectator and coach for his son's baseball teams, and is involved with his church and Noah's Children, the area's only palliative and hospice care program solely for children.
How do you define success?
Lifting others to achieve more—which, in turn, lifts the business to new levels.
In your opinion, what are the most important characteristics of a good leader? 
A good leader leads by example, has passion and courage to act, has vision and sees around the corner, and is fair and consistent.
What is your biggest challenge as a CEO?
Tactically, the ability to manage the risk of world source production in an overseas climate that seems to be in constant turmoil and upheaval.  Strategically, preventing complacency within your organization once you have achieved some levels of success.
Three words that describe me as a CEO are…
Driven, passionate, prepared.
Something surprising about my job is… 
There's a creative sense of style in what could be a "boring" uniform industry.
Best Virginia business dinner
Boar's Head Inn
Recently read
The Last Lecture, by Randy Pausch and Jeffrey Zaslow
You're hosting a dinner party for three famous people – current or historical.   Who would they be and why?
Thomas Jefferson—he drafted the principles that laid the foundation of our country, and was an amazing statesman and visionary (and he designed a pretty awesome University in his hometown).
Walt Disney—he was the greatest creative genius ever, and it all started with a mouse.
Cal Ripken, Jr.—he is the total definition of persistence, drive, and hard work to achieve amazing success.
What is the best business advice you've received?
"The harder you work, the luckier you get," from Jim Ukrop.
What motivates you?
Building teams to facilitate the achievement of sustainable success.
What makes your company unique?
We design and manufacture very good, custom uniform apparel products, and we provide great service to our customers—all by having a remarkable group of passionate associates driven to serve.
I can't get through the day without…
My iPhone!
Guilty pleasure
Trips to DisneyWorld (more than I want to admit!)
Favorite websites
cnn.com, wsj.com, virginiasports.com, espn.com
Music to work by
Classic rock, like The Eagles
Volunteerism
Noah's Children—Central Virginia's only children's hospice and palliative care program, Huguenot Little League (youth baseball coach),BonAirUnitedMethodistChurch
Posted by Scot McRoberts at 12:15 pm