Virginia Small Business Survey
---
How CEOs Are Addressing Diversity, Equity, & Inclusion
Experiences, perspectives, and insights from 50+ local CEOs
Learn how small business CEOs are addressing diversity and inclusion issues within their businesses.
(Free Report)
As you know, 2020 brought significant awareness to the inequalities that many people of color and diverse backgrounds face within their communities and workplace. Small business owners and leaders find they are now balancing post-COVID business challenges along with employee equity initiatives.
This FREE report highlights the challenges CEOs face in implementing effective programs AND offers insights & opportunities in four key areas other top executives may want to consider.
---
About the Report

Virginia Council of CEOs comprises more than 200 top executives from a wide variety of small and mid-sized businesses, each with revenues of over $1M and 5+ full-time employees. This survey analyzes 56 member responses on various issues related to diversity, equity, and inclusion (DEI).
Incorporating quotes from dozens of Virginia CEOs, the report documents the status of companies' DEI efforts across the state, examines the challenges Virginia businesses face in executing on DEI, and highlights CEOs' insights on a variety of topics:
Getting started with DEI
Investing resources and attention
Finding diverse candidates
Incorporating DEI organization-wide
Whether you're a business leader having trouble getting started with DEI, don't know where to invest resources or attention, or can't find the diverse candidates you're seeking, you can benefit from the perspectives in this report.
Download your free report today!
---
Key Findings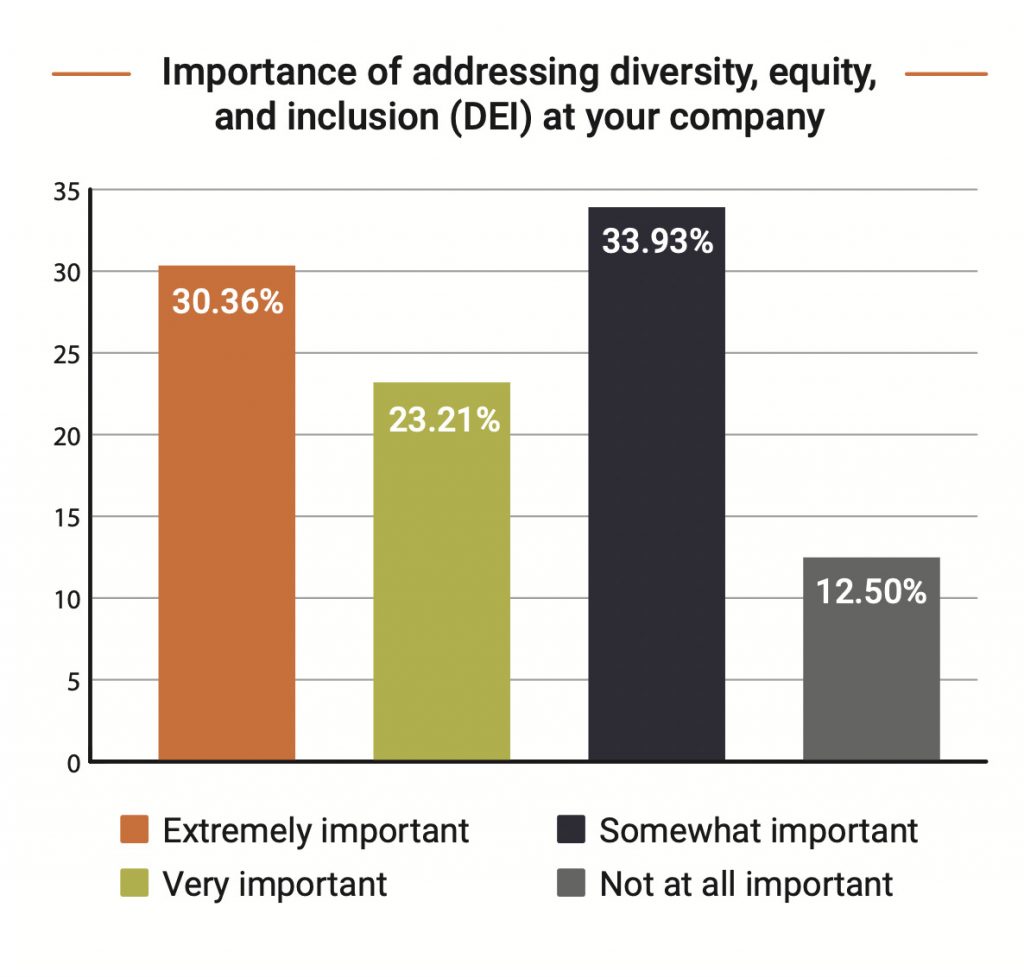 This report includes quotes from dozens of Virginia executives describing their experience with DEI and how they're overcoming the inherent challenges. Several key takeaways include:
DEI IS important to most Virginia CEOs and aligns with company values
DEI initiatives ARE NOT new—but most remain early stage
Most Virginia CEOs ARE concentrating on hiring diversity—and it's hard
This report also includes answers to questions, like "What are the KEY CHALLENGES you are facing?" and "WHO has been involved in developing and implementing your DEI initiatives?"
This report offers a wealth of insights from small business CEOs based on their experience with DEI.
---
About Virginia Council of CEOs (VACEOs)
Virginia Council of CEOs (VACEOs) is a nonprofit organization connecting CEOs for learning and growth. Formed more than 20 years ago, member benefits include placement in a peer roundtable group and access to a thought leader network, and a robust program of events for learning and growth. This is not a networking group, but rather a group of CEO peers who are invested in the success of each member. To qualify for membership CEOs must run a business with $1M+ revenue and 5+FTEs. Learn more at www.vaceos.org.