REQUEST FREE REPORT
Virginia Small Business Survey: How CEOs Are Addressing Diversity, Equity & Inclusion
This survey highlights the level of interest in DEI but also the challenges CEOs face in implementing effective programs AND offers insights & opportunities on four key areas other top executives may want to consider.
To get your free copy, please fill out this form and we will email you the report right away.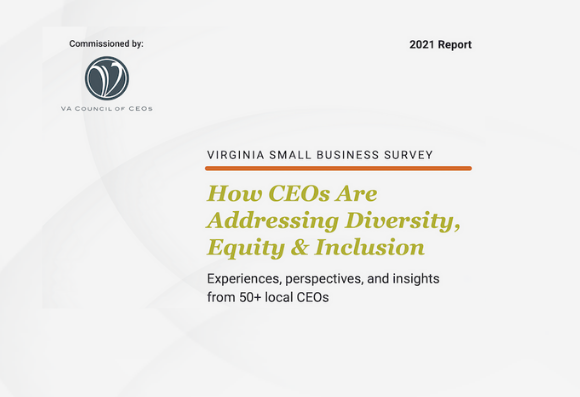 ---
About Virginia Council of CEOs (VACEOs)
Virginia Council of CEOs (VACEOs) is a nonprofit organization connecting CEOs for learning and growth. Formed more than 20 years ago, member benefits include placement in a peer roundtable group and access to a thought leader network, and a robust program of events for learning and growth. This is not a networking group, but rather a group of CEO peers who are invested in the success of each member. To qualify for membership CEOs must run a business with $1M+ revenue and 5+FTEs. Learn more at www.vaceos.org.