Try a Roundtable Session.
For a short time we're offering a one-time virtual peer experience for qualifying CEOs.

7 Reasons to Join a Peer Roundtable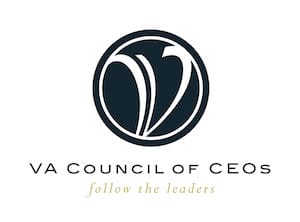 About VA Council of CEOs (VACEOs)
VA Council of CEOs  has been connecting CEOs for learning and growth for more than 20 years. Member benefits include placement in a peer roundtable group and access to a thought leader network and a robust program of events for learning and growth.
The Advantages of Being in a Peer Advisory Group (CEO Roundtables)

The most powerful way CEOs connect within the Council is through a confidential roundtable group. Each roundtable consists of 8-10 individuals who lead Virginia-based, non-competing companies with $1 million or more in revenue and 5 or more full-time employees.
Offering diversity of perspective in a confidential environment, peer roundtables have been proven to provide members with a clear advantage in decision-making and leadership.
In addition, CEOs find that a group of peers – one that meets regularly and follows a strict code of conduct and confidentiality, is a worthwhile experience that has made a positive impact on their business, especially during challenging times.
For a Limited Time, VACEOs Offers No-Cost Roundtable Experience
Hundreds of VA Council of CEOs Members have experienced the power of well-run peer roundtables. In these unusual times, we are connecting qualified CEOs from anywhere in Virginia via online roundtables. For a limited time we are pleased to offer a one-time virtual peer experience for those CEOs who most would most benefit from our community. (Virginia-based CEO. Company size: $1 million or more in revenue/5 or more full-time employees.)