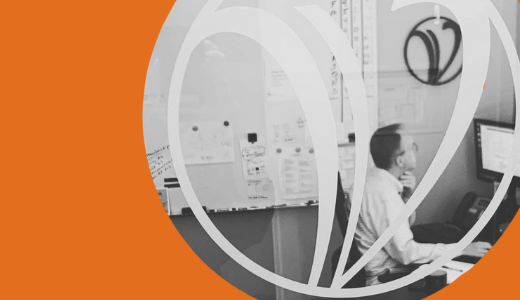 Last year at this time, I asked the members in my peer roundtable "What are your professional development plans for next year?" I was shocked when two of these CEOs said that they had done all that stuff, that they were within 5 years of exiting, and that they really didn't see a need for it. It seemed like they had decided to just coast to the finish line of their careers.
Maybe when I am closer to retirement, I will have that attitude, but I hope not. I believe that there is unlimited potential for growth, and that if I am to be the leader my organization needs and deserves, I need to work on myself continually.
I think I am a pretty good CEO. So, what's wrong with being the same kind of CEO again next year? Well, are my competitors sitting still or getting better? Is the pace of change in business and society slowing down? I don't think so. If I am to lead my business to compete and thrive amidst rapid change and the unexpected (pandemic, anyone?) I must continue to learn and grow.
So I encourage you, my fellow CEOs, to make a decision about how you will grow as a leader in 2021. The options are endless. You could take a class, join a book club, retain a coach, or join a peer roundtable.
Be a better CEO in 2021. Make a decision now on how you will learn and grow.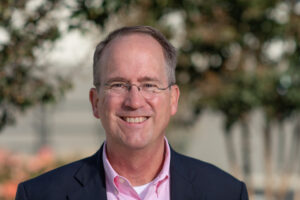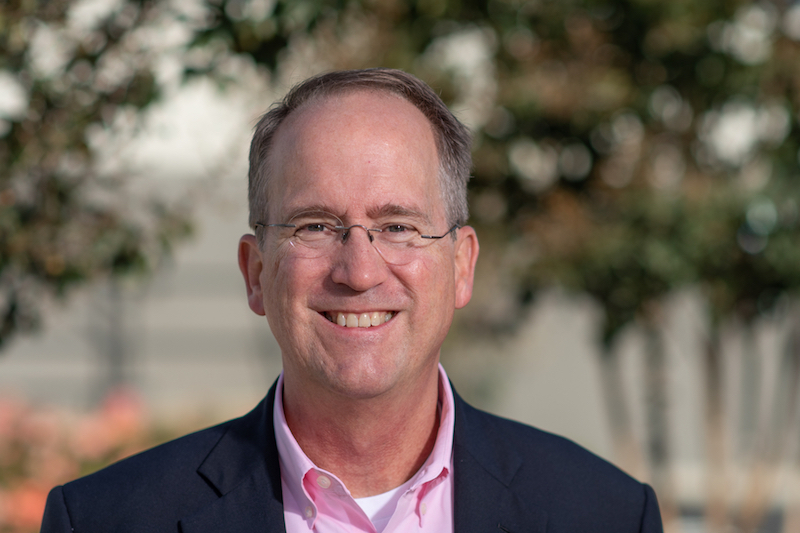 About the Author
Scot McRoberts is the executive director of the VA Council of CEOs (VACEOs). One of the original co-founders, he has led the organization's growth from 20 members in 2000 to more than 200 today. Utilizing a best practice model for the Council's CEO roundtables and a dogged focus on its core purpose of connecting CEOs for the purpose of sharing experiences, McRoberts has developed an association that boasts 90% retention. Before coming to VACEOs, Scot was a senior executive at the Greater Richmond Chamber of Commerce, where he led business councils, small business programs, and business retention efforts.
Posted by Staff at 2:42 pm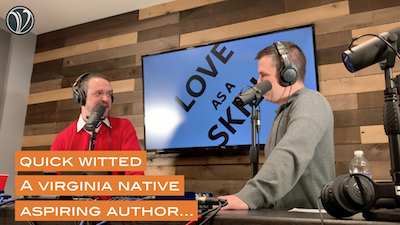 Each month we work hard to bring you content of interest to you and news you can use. From tactical takeaways to strategic planning to CEO profiles that intrigue, here are the most-read stories of the year. 
What kind of content would you like to see posted to vaceos.org? More CEOs profiles? More business tips? Is there a specific topic you would like covered? Please, let us know! 
MOST-READ STORY OF 2019: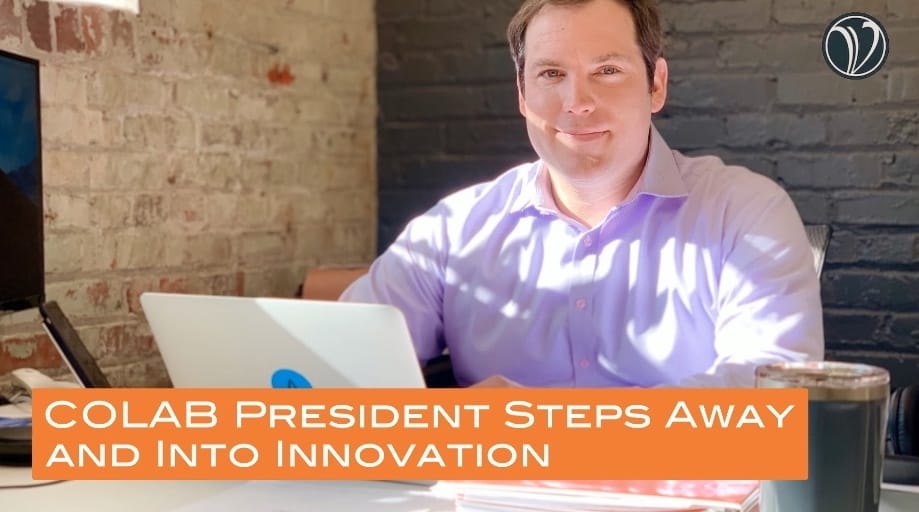 COLAB President Steps Away and Into Innovation (Video+)(#1)
For Eddie O'Leary, president of COLAB, one of the best business decisions he's ever made was to step away from it.
---
Here's how the other most-viewed posts faired.
TOP 7 COUNTDOWN: 2019 VACEOs.ORG STORIES OF THE YEAR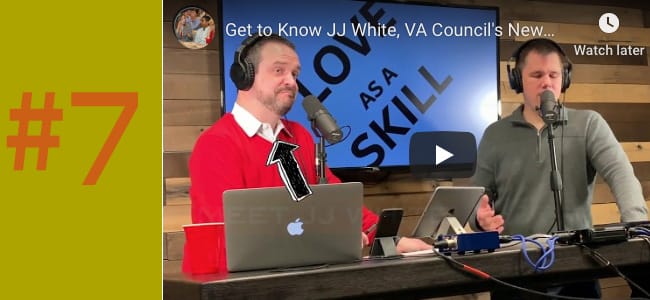 JJ White on His calling, His Podcast and His Plan to Shape VACEOs
(Video+)(#7)
JJ White opens up from his podcast studio about his business and his plans to shape the Council during his tenure as Chair.
---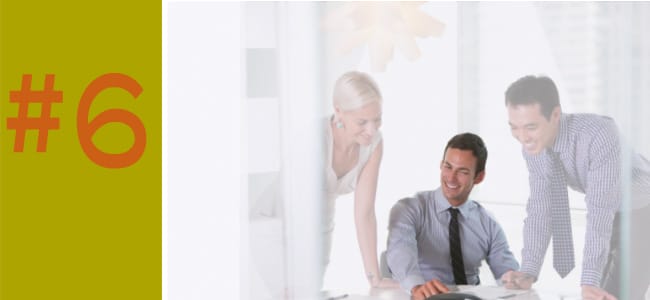 How to Best Leverage Your Managed Services Provider
by Warren Whitney (VACEOs Sponsor)(#6)
Here are the 6 key questions to ask when assessing your MSP relationships or when evaluating a new one.
---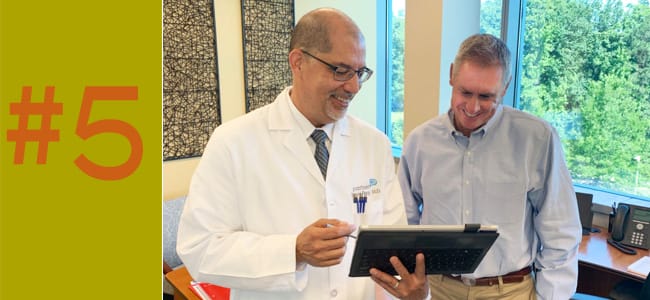 3 Ways to Manage Stress as a CEO
by Partner MD (VACEOs Sponsor)(#5)
Running a business can be extremely stressful. Here are 3 steps to help you manage the unique stressors you face.
---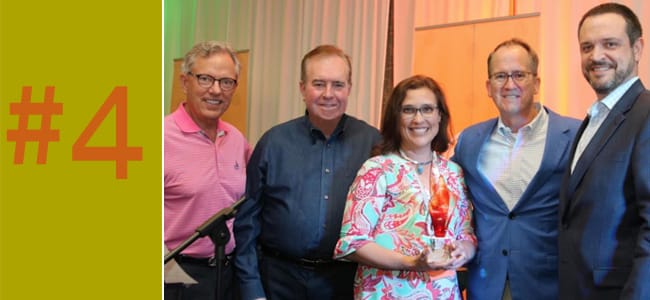 VA Council of CEOs Names Arlene Lee Third Recipient
of Charles E. McCabe Leadership Award (#4)
We are pleased to announce that Arlene Lee, President of R.E. Lee Companies (Charlottesville) has been awarded the Charles E. McCabe Leadership Award.
---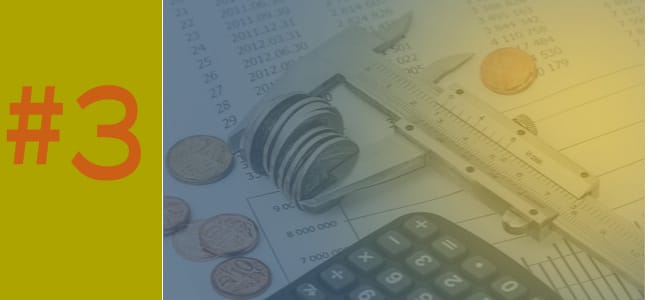 How to Calculate the Value of Your Business
by Transact Capital (VACEOs Sponsor)(#3)
A company's worth is impacted by any decisions that boost its EBITDA or reduces perceived risk to the buyer. Here's how to calculate your earnings.
---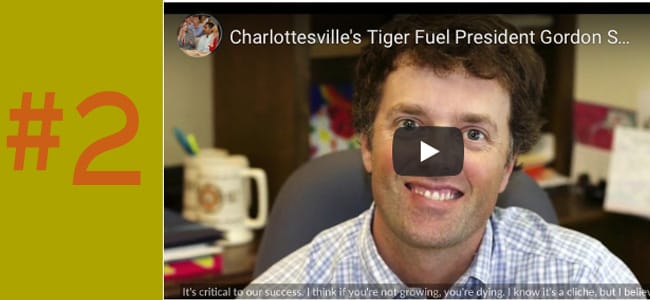 Fueled for Success: Q&A with Tiger Fuel President Gordon Sutton
(Video+)(#2)
With an employee count topping 270, Tiger Fuel is a successful, large-scale operation. What fuels this company's success? President Gordon Sutton shares all.
---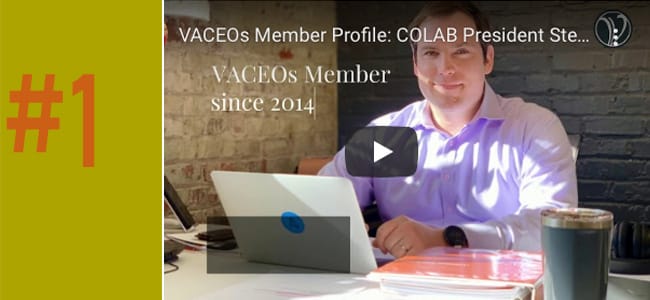 COLAB President Steps Away and Into Innovation (Video+)(#1)
For Eddie O'Leary, president of COLAB, one of the best business decisions he's ever made was to step away from it.
Posted by Staff at 1:23 pm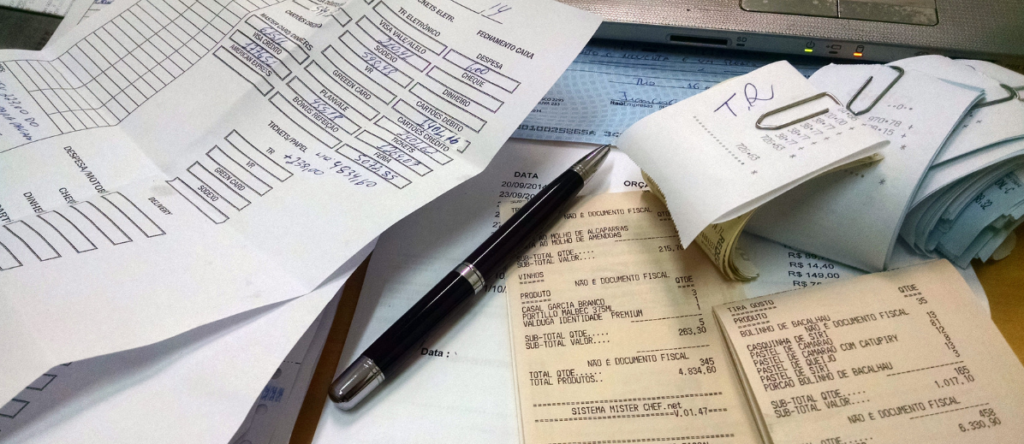 You are the CEO of a growing business. Do you need to:
Spend more time in areas of the business where you add the most value?
Maximize cash?
Add an operational finance perspective to your team?
Update your strategic plan?
Raise capital to grow your business?
Add a trusted advisor to your executive team?
Develop an exit strategy for your business?
If you answered yes to one or more of these questions, it could be time to get an experienced CFO on your team.
You may have thought about hiring a full-time CFO but held off given cost. Or perhaps you were concerned that you do not have enough work to keep a full-time CFO challenged. There is an alternative: You can engage an experienced CFO on a part-time or project basis.
By hiring a fractional CFO, you're instantly gaining access to all the knowledge, experience and lessons learned by this CFO over a career.  All at a significant cost savings to you.
Jay Nathanson, COO of Image Group, found it to be "a very, efficient way to use expertise." Adding, "It really became a great opportunity for me to be able to grow the business without making the investments of full-time people."
Building on my 35 years of experience, including serving as a full-time CFO for six companies and as a fractional CFO for others, I share several scenarios which describe situations where a fractional CFO might be able to help you.
YOU KNOW YOU NEED A FRACTIONAL CFO WHEN… (7 SCENARIOS)
Scenario #1: You Need to Spend More Time in Areas Where You Add the Most Value
If you're spending more time in planning and forecasting, contract negotiations and interactions with investors, and less time with customers, in strategy development and in other areas where you excel, it's time to engage a seasoned CFO. This executive will free you up, enabling you to add greater value to the business.
Scenario #2: You Need to Maximize Cash
You understand that cash is king.  You need the ability to forecast future performance, staying on top of cash forecasts, debt covenants, receivables and payables.  You also need creativity in the use of bank and other kinds of debt. An experienced CFO can help you maximize cash at the lowest cost.
Scenario #3: You Need an Operational Finance Perspective
You are getting accurate historical financial information; however, you are not getting meaningful analysis and insights from such information to drive your business forward. The right CFO will bring significant operational finance experience to the business, enabling you to fully understand historical performance, get the right metrics in place and more.
Scenario #4: You Need to Update Your Strategic Plan
As your business grows, there are many places where you can invest limited resources:  sales and marketing, product development, customer success and more. To get the best return requires an understanding of customer issues, customer and product profitability, the competitive landscape and more.  An experienced CFO can link financials and strategy, helping develop a plan which will increase your odds of success.
Scenario #5: You Need Capital to Grow Your Business
To execute your plan, you need to invest more in sales and marketing, customer success and new product development. This requires additional capital. Engaging a CFO skilled in raising capital will help you negotiate the best deal, minimizing dilution.
Scenario #6: You Need a Trusted Advisor
As the business grows, you are encountering a range of issues and questions, from personnel (e.g., what incentive program is right?) to tax (e.g., do I have sales or use tax exposure?). You need someone on your team with significant experience across many businesses and circumstances, someone who understands and has been around different C-Suite roles. Engaging an experienced CFO will help you get to the right answer quickly.
Scenario #7: You Need an Exit Strategy
Positioning your business for sale is not cut and dry. If you're considering a sale in the next few years, now is the time to prepare. To get the most value, you need the advice of a CFO skilled in buying and selling companies.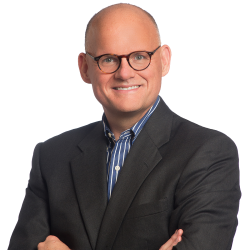 About the Author
Bobby Jenkins, Managing Director, Fahrenheit Advisors (Charlottesville), is an accomplished executive with 35 years' experience and a demonstrated track record in diverse businesses and circumstances. Working with public and private companies, large and small, he has played a key role in increasing equity value for stakeholders. His experience and skills position him well now to add value to Fahrenheit clients, particularly in engagements related to business planning, capital raises, performance management and restructuring.
EDITOR'S NOTE: Image and content provided by Fahrenheit Advisors. This post article was originally posted here. Fahrenheit Advisors is a Sponsor of Virginia Council of CEOs.
Posted by Staff at 4:34 pm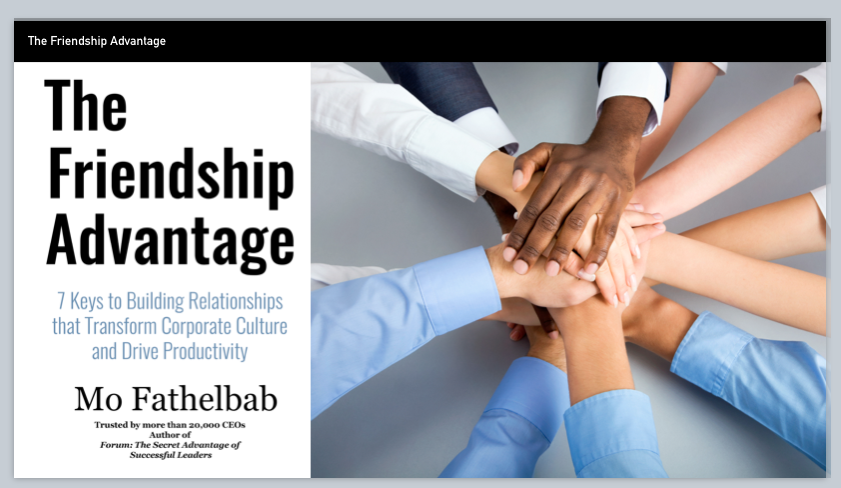 Did you know that 75 percent of employees who have a best friend at work say they're able to take on anything, compared to 58 percent of those who don't? And according to Harvard Business, "People who have a 'best friend at work' are more likely to be happier, healthier, and seven times more likely to be engaged in their jobs."*
Lifelong friendships are often developed within a confidential peer roundtable setting, and it's no wonder why. When certain principles of trust and candor are followed, and experiences are shared as part of a "no advice" protocol, nothing is off limits. It's not uncommon to hear, "I'm closer to this group than I am my best friends."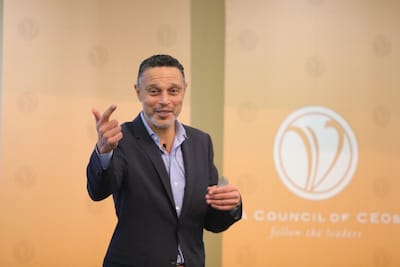 For Mo Fathelbab, founder of Forum Resources Network, this news was unsettling.
"So, initially, that really warmed my heart," he told the VACEOs Quarterly Luncheon audience on January 24. "But then it started bothering me, because the reason we have these roundtables is not so that we would have better relationships than we have in the rest of your life. It's so that the roundtables can help you be a better person in the rest of your life."
Fathelbab is often called in to train and coach VACEOs Roundtable members on how to get the most out of their roundtable experience. In fact, his book Forum: The Secret Advantage of Successful Leaders is required reading for all new members.
"Having friends at work has profound impact on productivity, happiness and company culture," says Fathelbab. At the luncheon event, Mo introduced his new book, The Friendship Advantage: 7 Keys to Building Relationships that Transform Corporate Culture and Drive Productivity. The content features guiding principles to help you be a better person and leader, and viable ways to help you strengthen employee bonds in your organization.
SUSPEND JUDGEMENT, HAVE SOME FUN, BE VULNERABLE …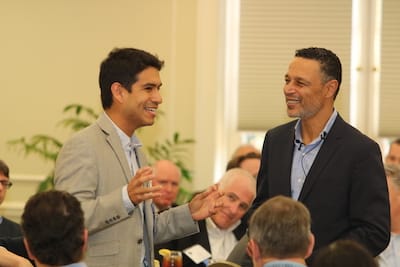 For business owners, The Friendship Advantage promises to help them strengthen the bonds that improve employee productivity, happiness and well-being, as well as boost bottom lines through higher retention rates and a richer company culture.
But it's not easy work being vulnerable and free of judgment, as we learned during Mo's highly interactive presentation. After one exercise, attendees declared it felt "cathartic" and "fulfilling" to open themselves up so completely to an unknown person at their table. They felt "human" and "real."
Now, imagine the possibilities.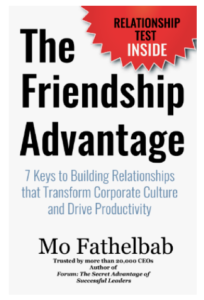 Seven Key Principles to Building Relationships*
Judgment Free
Mischievous Fun
Vulnerability
Reliability
Shared Purpose and Values
Sharing and Generosity
Kind Truth 
*Source: Mo Fathelbab Presentation, "The Friendship Advantage;" January 24, 2019; VACEOs Quarterly Luncheon.
Related articles:
Posted by Staff at 12:57 pm
Business owners, whether they run small or large organizations, are notorious for working long hours. But should we consider that that's simply the price one pays for being an entrepreneur? Or should we diligently seek work-life harmony? Is there real value in that pursuit?
"Undeniably so," says Danessa Knaupp, Principal, Avenue 8. "Leaders who feel successful and well balanced at home and at work are typically calmer in the face of stress and able to relate to others who are feeling stretched by their responsibilities. That sense of empathy is often a key differentiator between a good leader and a great one."
Knaupp's experience as an executive coach has also taught her that a better balanced CEO is a more productive leader. "When CEOs are able to better balance their time between rest, work and play, they often see leaps in productivity at work, stronger relationships at home, and an overall deeper ability to tolerate the daily ups and downs leadership delivers," she explains. 
FROM NEVER SAYING NO TO FOUR-WAY WIN: ONE CEO'S JOURNEY
After finding himself at a balance breaking point years ago, George Forsythe, Managing Partner with WellsColeman, finally found a way to successfully integrate his work with his home life.
"While I was rising up on my way to becoming a managing partner, everything was timed," explains Forsythe. "I never said no, and I struggled with how much I could fit into an already-packed day. You do all that you can, and at the end of the day, there's a breaking point, right? There are only so many hours in a day for your health and relationships."
He began to take regular trips to a remote cabin with his wife to decompress. "My wife says that having that place saved my life, in the sense that the path I was on wasn't healthy and sustainable," Forsythe says. 
Forsythe actively pursued a better version of himself. He invested in research and professional coaches, and attended leadership seminars, workshops and webinars. But it was a book by Stewart Friedman that resonated with him the most. 
"I found that Total Leadership by Stewart Friedman did the best job of explaining Work/Life Integration and how it will make you a better leader," says Forsythe. VACEOs Members participated in a day-long workshop with Wharton professor and bestselling author Friedman in 2017, thanks to Forsythe's recommendation.
The  concept of a "four-way win" – the perfect integration of work, home, community and self –especially resonated with Forsythe. "The big idea is that it's possible to create value for the different parts – for work, home, community and your private self, the domain of mind, body and spirit – in ways that you probably didn't think about before," according to Friedman. "It doesn't have to be a tradeoff.  Most people operate in a world of thinking about sacrifice as a necessity – that you have to give up something in one part of your life in order to achieve success in another part."
"The trip was amazing! It was the hardest work I've ever done. At one point, I estimated that I personally hoisted over 1,000 five-gallon buckets of rock and sand into the mixer." – George Forsythe
It's rare to consistently succeed on all fronts, Forsythe admits. But we recently caught up with him when he was working hard on the community side – just hours before he headed to Costa Rica with his family and a handful of clients and friends for eight days of volunteer work through the Courts for Kids organization. Their goal: build a multi-purpose sports court for a small village of roughly 300 people in a town about four hours north of San José.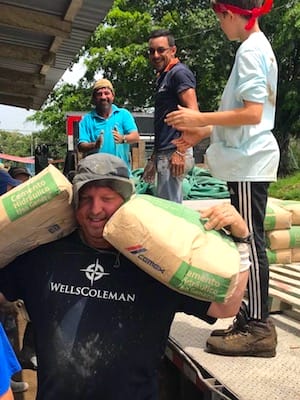 "The trip was amazing! It was the hardest work I've ever done. At one point, I estimated that I personally hoisted over 1,000 five-gallon buckets of rock and sand into the mixer. We immersed ourselves among the people in the village. We're hopeful that our sons, Sean (14) and Patrick (12), can learn from those who don't have so many material belongings and focus on what's truly important in life."
Some highlights of the trip? Long discussions with the villagers (who spoke no English) and, of course, playing on the courts with them after the work was completed. 
"I got to dust off my high school Spanish, and by the end of the week, I was having hour-long conversations with locals," says Forsythe. "Our range of topics included food, fishing, finance and politics. I'll remember this trip forever." 
How did this CEO go from never saying no to a huge, four-way win?
MAKE A PLAN. PAUSE REGULARLY.
Forsythe began his journey by looking inward and then making a plan.
"I approached looking at Work-Life Integration the same as running an organization," he explains. "It starts with a solid mission, vision and values and is followed up with some method of accountability to achieve the best results." He also finds real value in a meditation and yoga practice. 
Danessa Knaupp agrees that reflection and accountability are great tools. "I recommend that all leaders adopt a pause practice and reflect regularly, and I also recommend that leaders have a neutral accountability partner – whether that is a coach or trusted peer – to help them consider their path and activities as an observer."
Knaupp reports that the pause practice can be as formal as meditation (she loves Headspace and Deepak Chopra's meditation app) or as informal as sitting quietly on a deck at the end of a long day for five minutes while focusing on being present. Reflection can also take the form of journaling or dictating notes into your phone.
"Reflection helps leaders focus on what really matters by allowing them to observe themselves rather than simply react," says Knaupp. 
What methods or tools have you found to help you achieve a better work- life balance? Leave a  comment. We'd love to know!
Posted by Staff at 1:37 pm
---